Access to Justice Initiatives
A Message From Chief Justice Mark E. Recktenwald:
The Hawaii State Judiciary is committed to increasing access to justice in our courts. Thanks to the hard work and commitment of the Hawaii Access to Justice Commission, we have made significant strides in providing greater access in civil legal matters. We're proud to highlight several Access to Justice Initiatives here, and extend our appreciation to members of the bar and partners in the community who have supported these initiatives.
Access to Justice Centers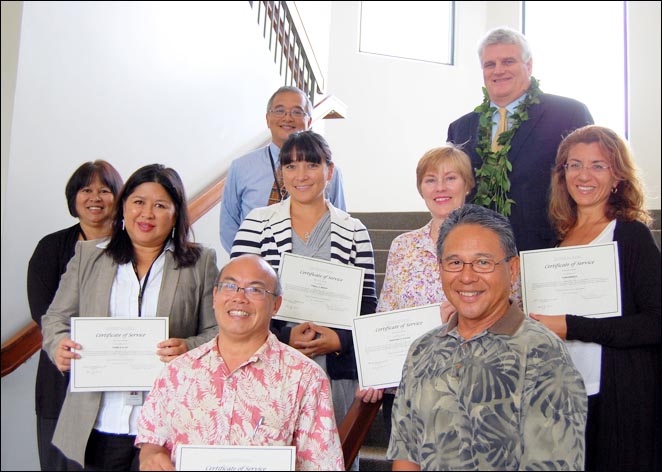 Hawaii Supreme Court Chief Justice Mark Recktenwald, joined by Fifth Circuit Chief Judge Randal Valenciano and Circuit Court Judge Kathleen Watanabe, presented certificates of appreciation to the volunteer attorneys who staff the Self Help Center at the courthouse in Lihue.
In courthouses across the state, volunteer attorneys and AmeriCorps Advocates provide free legal advice and legal information to unrepresented litigants and help them navigate through court forms and processes. Thousands of people in Hawaii have been assisted at a courthouse Access to Justice Room or Self Help Center.
Please click on the links below to see some of the Featured News Articles on the Access to Justice and Self-Help Centers, featuring attorneys who are volunteering their time to make this program a success:
Maui's Self Help Center Attorneys Recognized
Self-Help Center Attorneys on Kauai Recognized for Volunteer Work
Hilo Self-Help Center Volunteers Recognized
Access to Justice Room Attorneys Recognized
---
Interactive Court Forms Increase Access to Justice
The Hawaii State Judiciary, Hawaii State Public Library System and the Legal Aid Society of Hawaii (Legal Aid) partnered together to provide the public expanded access to Self-Help legal resources. Legal Aid utilized state-of-the-art software to develop self-help interactive forms, which guides the public in identifying and completing civil legal forms.
The self-help interactive forms application uses an interview process that creates court forms and legal documents to assist self-represented individuals. The interactive interviews ask a series of questions to complete a legal form or court approved document. The interactive interview also provides helpful information and instructions for next steps.
---
Access to Justice Workstations
For members of the public who do not have legal representation, finding the appropriate court forms and knowing how to fill them out can be a daunting task. That is why the Hawaii State Judiciary has partnered with the Hawaii State Bar Association and Legal Aid Society of Hawai'i to install new Access to Justice workstations. These computer workstations are equipped with an interactive software program that will help self-represented litigants facing civil legal issues to identify and complete the correct forms.
The new Access to Justice workstations are located in, or near, the Self-Help and Access to Justice Rooms at the following locations:
• Family Court of the First Judicial Circuit in Kapolei
• District Court of the First Circuit in Honolulu
• Circuit Court of the Second Circuit in Wailuku
• Circuit Court of the Third Circuit in Hilo
• Circuit Court of the Fifth Circuit in Lihue
---
 The Appellate Pro Bono Program
The Appellate Pro Bono Program is a joint effort of the Hawaii Judiciary, the Hawaii State Bar Association's Appellate Division, and Volunteer Legal Services of Hawaii (VLSH) to match volunteer attorneys with self-represented litigants who are parties to an appeal. Cases in the program are limited to non-criminal appeals in the following civil matters: foreclosure, summary possession, employment discrimination, worker's compensation, wrongful termination, denial of unemployment benefits, state tax appeals, probate matters, and paternity and non-married custody cases.
Applicants must demonstrate that a notice of appeal has been filed in their matter, and must establish with VLSH that they meet income qualifications for the program. Qualification for the program, or assignment of an attorney, is not guaranteed.  Parties accepted to the program also remain responsible for all costs of litigation, including transcript-preparation costs.
Interested parties should contact Volunteer Legal Services of Hawaii at appellate@vlsh.org, or by calling 808-243-9292.
---
Access to Justice Coordinator
Jenny Silbiger, (808) 539-4964