Maui's Self Help Center Attorneys Recognized
Posted on Nov 22, 2013 in Featured News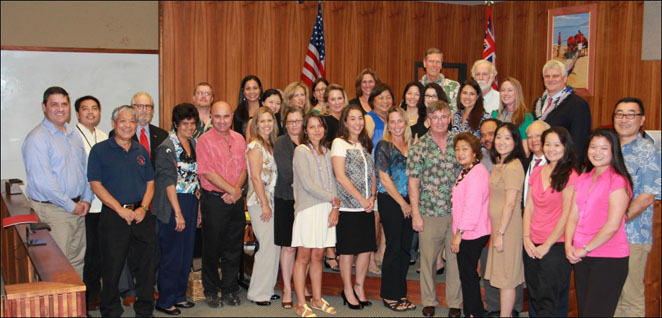 During a recent visit to Maui, Hawaii Supreme Court Chief Justice Mark Recktenwald, joined by Second Circuit Chief Judge Joseph Cardoza and Judge Rhonda Loo, presented certificates of appreciation to the volunteer attorneys who staff the Self Help Center at the Wailuku courthouse. Attorney J. Kevin Jenkins (pictured below) and Kyle Coffman (who was unable to attend) volunteered the most hours this past year; a total of 24 hours each.
"The number of participants from the Maui Bar who are staffing the Self Help Center, as well as their commitment to and enthusiasm in helping self represented litigants, has exceeded expectations," said Chief Judge Cardoza. "On behalf of the Second Circuit, I extend my sincere appreciation to all the volunteer lawyers for the help they are providing to pro se litigants."
The volunteer attorneys are: Benjamin Acob, Lynn Araki-Regan, Caroline Belsom, Eyke Brathhurdman, David Cain, Kyle Coffman, Roya Deyhim, Nicole Forelli, Greg Garneau, James Giroux, Gina Gormley, Eve Green, Kirsten Hamman, J. Kevin Jenkins, Linden Joesting, Tracy Jones, Georgia McMillen, Tim McNulty, Keri Mehling, Allison Mileur, Gary Murai, Yukari Murakami, Shinken Naitoh, Judy Neustadter, David Raatz, Judge Shackley Raffetto (Ret.), Doug Sameshima, Danielle Sears, Davelynn Tengan, Sonya Toma, Kristina Toshikiyo and Brianne Wong Leong. Attorneys Dave Jorgensen, William Kinaka, Gary Robert and David Sereno were also recognized for funding the purchase of supplies for the Center.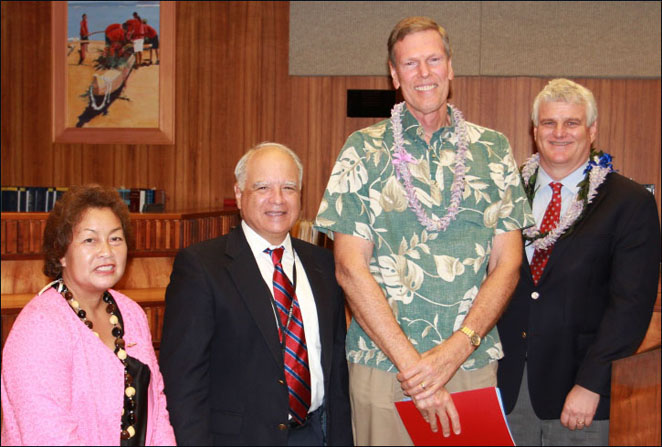 (Left to right) Judge Rhonda Loo, Chief Judge Joseph Cardoza, Attorney J. Kevin Jenkins and Chief Justice Mark Recktenwald at the Self-Help Center in the Wailuku courthouse.