Aloha and Welcome to Hawaiʻi Courts Mobile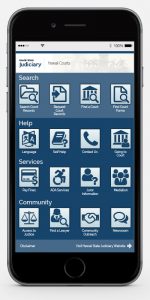 The Hawaiʻi State Judiciary is proud to introduce a free mobile app that is available for both iOS and Android devices. The Hawaiʻi Courts Mobile App can be used to access court records, learn more about jury service, or obtain information about free legal services.
"This app will provide easy access to a wealth of information about our courts," said Chief Justice Mark Recktenwald during his State of the Judiciary address. "Today, it is now available at the fingertips of anyone with a mobile device….and we are only the second statewide judiciary in the country to offer this service to the public.  We hope to continue building upon the app's features and services in the near future."
Website analytics show that 37% of website users are viewing the Hawaiʻi State Judiciary's website from their mobile device or tablet. The mobile app is a way to better reach mobile users and provide information in a format that makes it easier to navigate the legal system. 
The mobile app can be downloaded by searching terms such as "Hawaiʻi Courts" or "Hawaiʻi State Judiciary". Please call the Communications and Community Relations Office if you have further questions about the mobile app at 808-539-4909.
Download Using the Appropriate Link Below:
---
Contact Information:
Hawaii State Judiciary
Communications and Community Relations Office
Email: pao@courts.hawaii.gov
Telephone: 808-539-4909