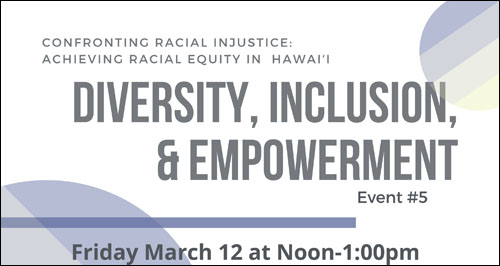 The five-part series on Confronting Racial Injustice: Achieving Racial Equity in Hawaii will conclude with a discussion on  Diversity, Inclusion, & Empowerment on Friday, March 12, from noon to 1 p.m. The event is free and the public is encouraged to participate via Zoom.
Register  for a conversation about diversity and inclusion in the legal community, and the importance of creating an environment that empowers individuals from varied backgrounds to fully engage and contribute to the success of their institutions and organizations.
The speakers will address how all of Hawaiʻi benefits when the makeup of our local institutions and organizations reflect the diversity of the communities served as doing so brings together diverse perspectives, talents, and experiences; thus, strengthening services to the public.
Troy Andrade, Assistant Professor of Law and Director of the Ulu Lehua Scholars Program at the William S. Richardson School of Law, will provide introductory remarks followed by the presentation by:
Ian Tapu (moderator)
Camille Nelson, Dean and Professor of Law at the William S. Richardson School of Law
Bill Harrison, Partner and Founding Member at Harrison & Matsuoka, Attorneys at Law
Jen Jenkins, Community Advocate
This series of events is sponsored by the Judiciary's Committee on Equality and Access to the Courts, the Judiciary History Center, and the Hawaii State Bar Association's Civic Education Committee.
AMERICANS WITH DISABILITIES ACT NOTICE: If you need an accommodation for a disability when participating in a court program, service, or activity, please contact the ADA Coordinator at the Hawai'i State Judiciary Office on Equality and Access to the Courts at (808) 539-4860 as far in advance as possible to allow time to provide an accommodation. You are also welcome to send an e-mail to adarequest@courts.hawaii.gov or complete the Disability Accommodation Request Form. The Disability Accommodations Coordinator will try to provide, but cannot guarantee, the requested auxiliary aid, service, or accommodation.