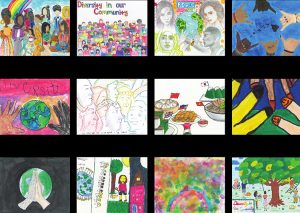 HONOLULU — Join us to celebrate Civil Liberties & the Constitution Day in Hawaiʻi, which honors individuals committed to protecting the civil rights and liberties of all. The day coincides with the birthday of civil rights icon Fred Korematsu, who challenged the constitutionality of imprisoning nearly 120,000 Japanese Americans during World War II.
Date: Monday, Jan. 30, 2023
Our conversation this year will address Diversity in Our Community, featuring the Honorable Rebecca A. Copeland (District Family Court Judge, First Circuit Court), the Honorable Lisa M. Ginoza (Chief Judge, Intermediate Court of Appeals), and Dr. Akiemi Glenn (Founder and Executive Director, Pōpolo Project).
This program is co-sponsored by the Hawaiʻi State Bar Association Civic Education Committee.
If you require accommodation for a disability, please email info@jhchawaii.net or call us at 808-539-4999.
While the Hawaiʻi State Judiciary provides a venue for diverse discussion, the speakers' remarks do not necessarily represent opinions of the Judiciary.
For more information, contact the Communications and Community Relations Office at 808-539-4909 or via email at pao@courts.hawaii.gov.
Subscribe to the Hawai'i State Judiciary mailing list for email notification of press releases and other announcements.