The Big Island Drug Court (BIDC) float captured two awards — first place and Best Crowd Pleaser in the 2019 Kailua-Kona Fourth of July Parade. This is the fifth straight year that the Drug Court has had a winning entry in the annual parade.
The float crew included Drug Court staff and participants, volunteers from the Third Circuit Veterans Treatment Court Program, Drug Court Alumni, the Access Capabilities and Bridgehouse treatment programs, representatives of the Office of the Public Defender, as well as Deputy Chief Court Administrator Dawn West and Kona Drug Court Presiding Judge Melvin Fujino.
"The Fourth of July parade is a wonderful opportunity to inform the community about the Drug Court program and for the community to see that our participants are working hard to improve their lives and make their community a better place," said Big Island Drug Court Coordinator Grayson Hashida.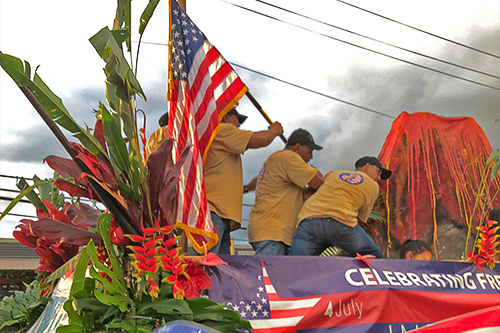 Since 2002, the BIDC has assisted 294 individuals break from addiction and given them new skills to improve their lives. The program provides alternatives to incarceration, helps reduce recidivism, and saves taxpayer dollars.
For information about how you can become a program supporter through the Friends of the Big Island Drug Court, contact the Drug Court Probation office in Hilo at 808-961-7566, or in Kona at 808-443-2200.