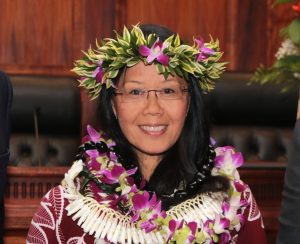 LIHUE, HI – Tina Higashi, supervisor of the Fifth Circuit Court's Juvenile Client & Family Services Branch (JCFSB), has received the Judiciary's 2018 Meritorious Service Award. She was recognized for her contributions to the people of Hawaii at the Fifth Circuit Court's Employee Awards Ceremony on December 7.
Higashi was one of three statewide recipients of this award, which is bestowed annually to employees who have made important contributions to public service through notable careers, superior service in administration, or in the execution of duty. The Judiciary's Meritorious Service Award also recognizes initiative in devising new and improved work methods and procedures, superior achievement in improving the safety or health of workers or employee morale, or any other meritorious or superior service which approaches the high standard required of distinguished service.
"With her ability to take on any challenge and promote the success of others, Tina has been central to the development of Kauai's Juvenile Client & Family Services Branch," said Fifth Circuit Chief Court Administrator David Lam. "Tina was also instrumental in developing the Fifth Circuit Girls Court Program in 2015 and in launching the Truancy Court Program in 2017. These programs have provided critical interventions that help children and families in our community address a variety of hardships and barriers to a successful life. We are most grateful to be the beneficiaries of Tina's deep caring and dedication to public service."
The Judiciary also recognized Alton Amimoto for 35 years of service and Remy Balaan and Marilyn Hasegawa for 30 years of service.
For more information, contact the Communications and Community Relations Office at 808-539-4909 or via email at pao@courts.hawaii.gov.
Subscribe to the Hawai'i State Judiciary mailing list for email notification of press releases and other announcements.