Civil Liberties Today – Tuesday, 01/30/2018
Posted on Jan 30, 2018 in Uncategorized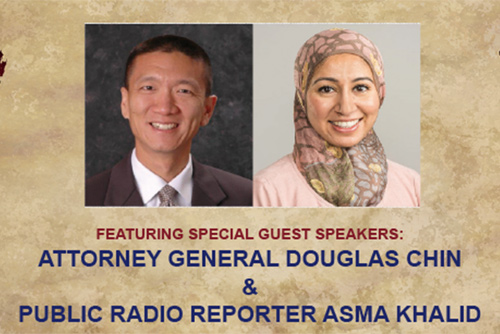 In celebration of Civil Liberties and the Constitution Day in Hawaii, the Hawaii State Bar Association Civic Education Committee and the Kamehameha V Judiciary History Center are pleased to present Hawaii Attorney General Douglas Chin and National Public Radio reporter Asma Khalid who will talk about civil liberties in today's world.
Tuesday, January 30, 2018
5:30 to 7:30 p.m.
Ali'iolani Hale
417 South King Street
Douglas Chin was appointed Hawaii Attorney General in 2015. He has been an advocate for the rights of minorities and the disenfranchised, and in 2017, he filed a lawsuit against the President's executive order instituting a ban on travel from certain Muslim-majority nations. As the state's chief legal counsel, Chin has reacted to and anticipated changes in federal programs, funding and other services and support relating to Hawaii residents. In recognition of his "courageous legal work in the face of public controversy that helps promote the interests of justice and preserves the integrity of the judiciary," Chin received the Champion for Social Justice Award from the Hawaii State Bar Association.
Asma Khalid will be rejoining NPR's political team in February. During the 2016 presidential election, Khalid covered the presidential election for NPR—focusing on demographics and voters. Her stories explored the impact of race, age, religion, geography, and college education on voter behavior. After the election, Khalid shared a bit about her own experiences during the campaign cycle. In "What It Was Like to Cover the Election as a Muslim," she described public reaction to her as a visibly identifiable Muslim woman as she traveled the United States interviewing voters at town halls, rallies, diners, and churches.
RSVP here: 
https://www.eventbrite.com/e/civil-liberties-today-tickets-42135537527
If you require accommodation for a disability, please call 808-539-4999.