Statement from Chief Justice Mark E. Recktenwald on the passing of ICA Judge Harry T. Tanaka (Ret)
Posted on Dec 27, 2017 in Uncategorized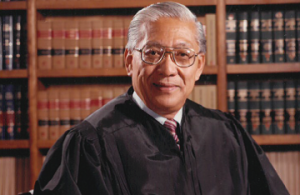 "I am deeply saddened by the passing of retired Judge Harry T. Tanaka. Judge Tanaka served on the Intermediate Court of Appeals from 1982 until his retirement in 1991. During his time on the bench, Judge Tanaka served with great distinction, and helped to shape the ICA during its early years. Even after retiring, he continued volunteering his time for many years at the ICA, and we are profoundly grateful for his devotion and commitment to public service."
Judge Tanaka passed away on December 19, 2017, at the age of 96. He received his law degree from Yale University in 1952 and was admitted to the Hawaii Bar, after which he clerked for Judge J. Frank McLaughlin in U.S. District Court, District of Hawaii. He then went to work as an associate at Tsukiyama & Yamaguchi in 1954.  The firm eventually became Yamaguchi & Tanaka, where Judge Tanaka practiced civil law for more than 20 years.  He was appointed by Governor George R. Ariyoshi to the ICA in 1982.
Judge Tanaka was highly regarded in the legal community. In 2015, the Hawaii State Bar Association partnered with ThinkTech Hawaii on a series titled, "Living Legend Lawyers".  Judge Tanaka was featured in the segment called "Hawaii Lawyers in WWII." During the program, he recounted his time in the Military Intelligence Service, serving in the Pacific Theater, primarily in New Guinea, where he was helping to translate captured Japanese documents and interrogating Japanese soldiers.
Judge Tanaka's wife, Helene. passed away in September. "On behalf of the Judiciary, I extend our sympathy and aloha to Judge Tanaka's son Alan, and daughter Lynne Toyofuku, and the rest of his family," said Chief Justice Recktenwald.