Judiciary Celebrates Law Day 2018
Posted on Apr 30, 2018 in Press Releases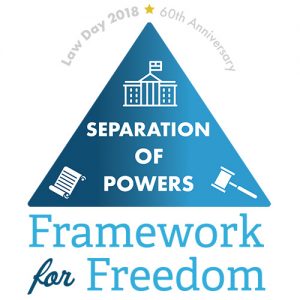 HONOLULU – During the month of May, the Hawaii State Judiciary is offering a variety of special events and activities in observance of Law Day (May 1), the annual celebration of our nation's dedication to the ideals of equality and justice under law. Law Day also highlights the legal process and the role of our courts in protecting the freedoms of all Americans. This year's theme is "Separation of Powers: Framework for Freedom."
"The Judiciary is excited to provide opportunities for the public to learn more about the role of the courts in protecting individual rights and liberties, and in ensuring there is equal justice for all," Chief Justice Mark E. Recktenwald said.
To commemorate Law Day 2018, the Hawaii State Judiciary has produced a new series of videos with judges answering some of the questions most frequently asked by the public. The videos are part of the Judiciary's ongoing commitment to help people better understand how our legal system strives to provide justice for all. The topics are:
Can I Represent Myself in Court?
https://youtu.be/3meXDT99shw
Can you describe the kinds of cases that are heard in small claims court?
https://www.youtube.com/watch?v=Fpav-pnWWpI
What are the steps to file a case in small claims court?
https://www.youtube.com/watch?v=YYUQ1_pkRD0
Victim's Rights and Defendant's Rights
https://youtu.be/X8l02LS1NDs
Why Can't I Talk to a Judge About a Case?
https://youtu.be/Gl4ivDNJ0X0
Why Can't Judges Comment on Cases?
https://youtu.be/KPZmFIb6H6w
These and other videos are available on the Judiciary's YouTube channel:
https://www.youtube.com/user/hawaiicourts
CENTER FOR ALTERNATIVE DISPUTE RESOLUTION (Oahu)
Olelo Community Media will air "Indigenous Conflict Resolution: Practice and Integration," in which a panel of distinguished individuals discusses the possibilities and implications of integrating indigenous conflict resolution methods into the practice of law and the court system.
The program was filmed on March 12 in the Hawaii Supreme Court Courtroom, and was a collaborative presentation of the Hawaii State Judiciary's Center for Alternative Dispute Resolution (CADR), the Association for Conflict Resolution – Hawaii, The Spark M. Matsunaga Institute for Peace and Conflict Resolution, the Native Hawaiian Bar Association, the Hawaii State Bar Association – ADR Section, and The Mediation Center of the Pacific, along with experts from the Columbia Law School Mediation Clinic. The four panelists were Laulani Teale, Malia Akutagawa, Shawn Watts, and Yuklin Aluli, with Laurie Tochiki moderating.
This program is part of CADR's continuing work to make alternative dispute resolution processes broadly available in our justice system, thereby helping to expand access to justice.
The program will be broadcast on Channel 49 – Olelo Community Television:
Tuesday, May 1, 2018, 1:30 p.m.
Wednesday, May 2, 2018, 1:30 p.m.
Thursday, May 3, 2018, 2 p.m.
Friday, May 4, 2018 6 p.m.
Following the initial air dates, the program will be available on the Olelo website's OleloNet On Demand at http://olelo.org/olelonet/ (search "Indigenous Conflict Resolution: Practice and Integration" to view).
SUPREME COURT LAW LIBRARY (Oahu)
The Supreme Court Law Library invites visitors to test their knowledge of the concept of separation of powers between our legislative, executive, and judicial branches of government with a new interactive display.
The public is also invited to visit the Law Library's Self-Help Station, a community resource designed to advance access to legal information and the courts for self-represented (pro se) litigants.
The Self-Help Station provides:
Free access to a dedicated computer terminal with word processing software for self-represented individuals to conduct legal research and create legal forms (15 cents per page for printed copies)
Access to legal information and resources via the Judiciary Court Forms web page and LawHelp.org/HI (certain forms available in Spanish, Chinese, Korean, and Vietnamese)
Fact Sheets on Annulment, Divorce, Separation, Child Support Modification and Child Custody Modification designed to provide a basic understanding of legal rights and starting the legal process.
Online brochures and videos in English, Chuukese, Illocano, and Marshallese
A Legal Services Portal to match users to service providers and information.
The Supreme Court Law Library, located at Aliiolani Hale, 417 South King Street, Honolulu, 96813, is open Monday through Friday, 7:45 a.m. – 4:15 p.m. Staff is available to provide information services and hand-outs on accessing legal resources.
FIRST CIRCUIT (Oahu)
The First Circuit Court invited students Grades 2 – 5 to participate in a poster contest in April. Over 60 entries were received this year, with an impressive range of creativity, artistic ability, and interpretation of this year's theme. Award recipients will be announced in May, with judges and Judiciary staff visiting the contest winners at their schools.
The first place awardees will receive a certificate of achievement and a pizza party for their class. Second and third place awardees will receive a certificate of achievement. All award recipients will have their artwork displayed in a courthouse on Oahu.
The First Circuit Court also invited students at Hale Hoomalu Juvenile Detention Facility and Home Maluhia to participate in a Law Day art poster contest. Judges will be selecting the top artwork in the 7th – 9th grade category and in the 10th – 12th grade category. Award recipients will be recognized in May.
SECOND CIRCUIT (Maui)
During the month of May, the Second Circuit Court will have informational displays on the 2018 Law Day theme on the first and fourth floors of Hoapili Hale. In addition, Second Circuit judges are scheduled to participate in speaking engagements at a number of schools.
Schools on Maui, Molokai, and Lanai interested in observing court proceedings, touring of Judiciary facilities, and meeting with judges are invited to call the chambers of the Chief Judge at (808) 244-2860.
THIRD CIRCUIT (Big Island)
Schools are invited to contact the courts to arrange tours of the courts throughout the Third Circuit. Students will have the opportunity to observe court proceedings and meet with judges.
On Hawaii Island (Third Circuit) call the Program Services Branch at (808) 322-8726.
FIFTH CIRCUIT (Kauai)
The Judiciary will host "Law Day on Kauai" where volunteer attorneys will provide free legal information to the public on a variety of topics, including landlord/tenant cases, collection cases, District and Family Court temporary restraining orders, divorces, and custody. Additionally, the attorneys may review court documents and forms for completeness and accuracy and try to answer as many procedural questions as possible.
"Law Day on Kauai"
Friday, May 4, 2018
9 a.m. to noon
Self-Help Center at the Kauai Judiciary Complex
3970 Kaana Street
Lihue, HI 96766
Telephone: (808) 482-2660
The public is also invited to view educational displays that will be posted at the Kauai Judicial Complex throughout the month of May. This year's displays include the Judiciary Information Management System (JIMS), a Judiciary Adult Client Probation Service display on the HOPE Probation Program, along with Juvenile Client and Family Service Branch displays on Girls Court and the Kauai Drug Court. Each educational display will feature program highlights and provide free program literature.
Tours of the Kauai Judicial Complex will also be available for schools and interested members of the public. Tour arrangements may be made by calling (808) 482-2347.
For more information, contact the Communications and Community Relations Office at 808-539-4909 or via email at pao@courts.hawaii.gov.
Subscribe to the Hawai'i State Judiciary mailing list for email notification of press releases and other announcements.