Judiciary systems including JEFS, eCourt Kokua, and Document Drop-off will be unavailable due to maintenance work beginning midnight Friday, September 23, to noon, Sunday, September 25. If work is completed sooner, systems may be restored earlier. Applications, including eReminder, eJuror, and eTraffic will not be affected. Thank you for your patience and understanding.
---
Honolulu City Council Honors Judge Steve Alm for Work With HOPE Probation Upon His Retirement
Posted on Sep 9, 2016 in Featured News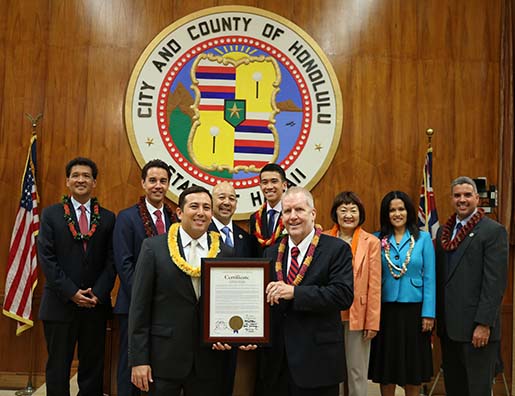 Retired First Circuit Court Judge Steven Alm was recognized by the Honolulu City Council at Honolulu Hale on September 7, 2016, for his work as the founder and advocate for the Hawaii State Judiciary's HOPE (Hawaii's Opportunity Probation with Enforcement) program. Hawaii's HOPE program has served as a model to many court systems around the nation seeking to reduce probation violations by drug offenders and others at high risk of recidivism. Alm's last day of work was August 31, 2016.
Pictured are (front row from left to right): Honolulu City Councilmember Trevor Ozawa; Judge Steven Alm; (back row left to right) Councilmembers Ron Menor and Joey Manahan; Council Chair Ernest Y. Martin; and Councilmembers Brandon Elefante, Ann Kobayashi, Kymberly Marcos Pine, and Ikaika Anderson.