Browning Named Jurist of the Year, Judiciary Employees Honored
Posted on Nov 18, 2013 in Featured News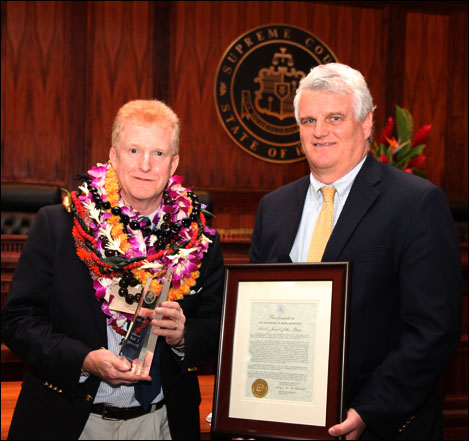 R. Mark Browning was presented the Judiciary's Jurist of the Year Award by Chief Justice
Mark Recktenwald on November 15, 2013.
R. Mark Browning, deputy chief judge and senior family court judge of the First Circuit Family Court, was honored as the 2013 Jurist of the Year at an awards ceremony held November 15 at the Hawaii Supreme Court courtroom.
The Jurist of the Year is selected for exceptional judicial competence evidenced by decisional quality, significant extra-judicial contributions to the administration of justice, and active participation in public service to the community at large.
Judge Browning, who was first appointed to the bench in 1997, is a chair of an inter-branch working group. The group is currently analyzing the juvenile justice system to develop data-based policy recommendations to present to the legislature. Also, Judge Browning is working with judges and staff to develop and implement a strategic plan for the family court while providing training to family court judges statewide on a regular basis, and working closely with the family law section of the Hawaii State Bar Association.
"Throughout his career, Judge Browning has worked tirelessly on many innovative projects, all with the goal of improving family court services to the public and the lives of our youth and their families," said Chief Justice Mark Recktenwald, who selected Judge Browning from nominations submitted by Judiciary employees and members of the Hawaii bar. "Judge Browning is passionate about his role in the judiciary, and his enthusiasm, energy, and desire to make a difference are contagious among his colleagues and staff," he said.
Also at the ceremony and at other ceremonies on Oahu, the Big Island, Maui and Kauai, Judiciary employees were recognized for their outstanding contributions to the court system.
First Circuit Deputy Chief Court Administrator Janice Yamada received the Distinguished Service Award, the Judiciary's highest award presented under its Incentive Awards Program. Janice Yamada has oversight responsibility for 500 employees, as well as the physical operations of the Kapolei Courthouse and Juvenile Detention Facility.
A Meritorious Service Award, which recognizes employees who maintain a high level of excellence on the job, was presented to Miki McGarvey, Intake Section, Adult Client Services Branch, First Circuit; and Lindalani Mock Chew, Legal Documents Section, Kona/Kamuela Support and Operations Branch, Third Circuit.
A Group Meritorious Service Award was presented to the First Circuit's Fiscal Management and Support Services Branch. The individuals who were recognized as members of this team are Tracy Chan, Rowena Coronel, Raquel Hironaka, Reid Iwamoto, Brian Lee, Mark Masunaga and Jody TinLoy.
For consistently displaying a helpful and courteous attitude to the public and to co-workers, a Spirit of the Judiciary award was presented to Joella Jones-Saito, Office of the Chief Judge, Second Circuit; Arnold Nishiki, Facilities Management & Support Services Branch, First Circuit; and Robert Sanchez, Client Services Division, Adult Client Services Branch, First Circuit.
David Cypriano, Judiciary History Center, Intergovernmental and Community Relations Department; Celeste Inanod, Adult Client Services Branch, Fifth Circuit; Naomi Inouye, Deputy Chief Court Administrator's Office, Third Circuit; and Daralyn Villesca, Big Island Drug Court, Kona, Juvenile Services Branch, Third Circuit; received a Certificate of Commendation Award.
A Group Certificate of Commendation was presented to the statewide Probation Officer Safety Training Team. The team members from the First Circuit are Jessica Ayers, Paula Chu, Rupert Chun, Sabine Dufreny, Joan Dyer, Eleanor Kekauoha, Lesi-Marie Leao, Alysa Makahanaloa, Brook Mamizuka, Gayle Mizukami and Andrea Puglese. The Second Circuit members are Joseph Cosner and Craig Hirayasu. Nannette Napalapalai, David Rosenbloom, Gordlynn Surigao and Lynn Yokoyama are the team members from the Third Circuit and Isaac Tarik is with the Fifth Circuit.