Past Honorees Include U.S. Supreme Court Justices Ruth Bader Ginsburg and Sandra Day O'Connor, and Congresswoman Patsy Takemoto Mink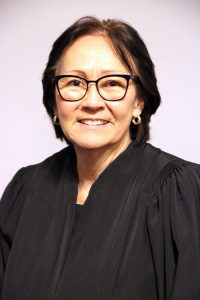 HONOLULU – Hawaiʻi Supreme Court Justice Sabrina S. McKenna has been honored with the 2023 Margaret Brent Women Lawyers of Achievement Award. Presented by the American Bar Association's Commission on Women in the Profession, it recognizes five outstanding women lawyers who have achieved professional excellence and paved the way for other women in the legal profession.
Justice McKenna was nominated by the National Asian Pacific American Bar Association, which noted that she "is a globally recognized trailblazer, a staunch advocate for diversity and inclusion in the legal profession, and a true role model, mentor, and heroine to women, especially in the LGBTQ and underrepresented communities. She epitomizes the spirit of Margaret Brent through her values, lived experiences, courage, and most importantly, her tireless dedication to inspiring and uplifting women and traditionally marginalized people with compassion, positivity, and optimism."
"I am extremely humbled by this recognition," Justice McKenna said. "I have been the beneficiary of the vision and leadership of women like Patsy Takemoto Mink, whom I consider my hero and guiding inspiration, to serve our community and motivate women to learn the law and use it to better the world.
"I consider myself fortunate to have grown up a biracial, bilingual, and bicultural Asian American, lesbian immigrant woman, raised by a single mother from age 9, because it has shaped who I am," she said. "My life experiences have taught me to bring sensitivity to those who may not have been born into a life of privilege and to bring compassion to the court."
"Justice McKenna is richly deserving of this prestigious honor," said Chief Justice Mark E. Recktenwald. "This is the highest award for women lawyers nationwide and the Hawaiʻi State Judiciary is absolutely overjoyed, and so proud of her."
Past Hawaii recipients of the Margaret Brent award are Congresswoman Patsy Takemoto Mink (1992), Ellen Godbey Carson (2006), and U.S. Sen. Mazie Hirono (2013). Judicial awardees include United States Supreme Court Justices Ruth Bader Ginsburg (1993) and Sandra Day O'Connor (2000), and California Chief Justice Tani Cantil-Sakauye (2012).
Justice McKenna will receive her award on August 6 at the 33rd Annual ceremony in Denver, Colo.
Also being honored are:
Melissa Murray – Frederick I. And Grace Stokes Professor of Law, NYU School of Law, New York, NY.
Yvette Ostolaza – Chair, Management Committee of Sidley Austin LLP and Executive Committee member, Dallas, TX.
Deborah Willig – Founder and Managing Partner, Willig, Williams & Davidson, Philadelphia, PA.
Jill Wine-Banks – MSNBC contributor, author, The Watergate Girl; co-host #SistersinLaw and iGenPolitics Podcast, Evanston, IL.
For more information, contact the Communications and Community Relations Office at 808-539-4909 or via email at pao@courts.hawaii.gov.
Subscribe to the Hawai'i State Judiciary mailing list for email notification of press releases and other announcements.