Judiciary systems including JEFS, eCourt Kokua, and Document Drop-off will be unavailable due to maintenance work beginning midnight Friday, September 23, to noon, Sunday, September 25. If work is completed sooner, systems may be restored earlier. Applications, including eReminder, eJuror, and eTraffic will not be affected. Thank you for your patience and understanding.
---
Video Available Online – Footprints in the Sand: African American Attorneys in Hawaii
Posted on Aug 13, 2020 in Featured News, News & Reports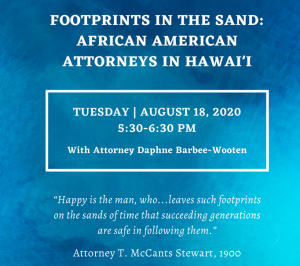 Who were attorneys T. McCants Stewart and George M. Johnson? What impact did these men have on Hawaii's legal world? Sharing personal stories and research, attorney Daphne Barbee-Wooten will recount the history and contributions of African American attorneys in Hawaii. From helping to establish the William S. Richardson School of Law to protecting civil rights and liberties, this program honors a rich history beginning in 1898 and that endures through the present work of the African American Lawyers Association of Hawaii.
Please e-mail info@jhchawaii.net or call (808) 539-4999 if you require accommodation for a disability.
Presenter
Attorney Daphne Barbee-Wooten is President of the African American Lawyers Association of Hawaii and a member of the Hawaii State Bar Association. She is a former Hawaii State Advisor to the U.S. Commission on Civil Rights (2007–2009), EEOC Trial Attorney for the Board of Bar Examiners (1993–2011), and Commissioner of the Hawaii Civil Rights Commission (1989–1995). Attorney Barbee-Wooten received the Lifetime Achievement Award from the NAACP's Hawaii branch in 2015, along with her husband, attorney Andre S. Wooten. In 2016, she received the Civil Rights Attorney of the Year Award from Sisters Empowering Hawaii. Attorney Barbee-Wooten received her JD from the University of Washington and BA in Philosophy from the University of Wisconsin, Madison.
Attorney Barbee-Wooten is a published author and videographer. Her publications include Justice For All, Selected Writings of Lloyd A. Barbee (Wisconsin Historical Press, 2017), African American Attorneys in Hawaii (Pacific Raven Press, 2010), and They Followed the Trade Winds: African Americans in Hawaii (UH Press, 2004). She formerly wrote a monthly column in Mahogany and Latin Hawaii News of Hawaii. She currently writes for Blackpast.org.