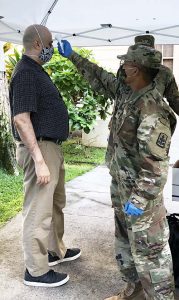 HONOLULU – If you see a Humvee parked outside one of the state courthouses, don't be alarmed. It just means that the Hawaii National Guard is onsite supporting the Judiciary's efforts to enhance courthouse safety by doing contactless temperature checks and basic health screenings for anyone entering the courthouse.
"We are extremely grateful to Major General Kenneth Hara, who is Incident Commander of the COVID-19 Pandemic, and the Hawaii Army National Guard for responding to our request for assistance," said Chief Justice Mark E. Recktenwald. "This added capability augments our existing protective measures such as required face coverings, social distancing, and frequent cleaning."
Uniformed, unarmed members of the Air Guard and Army Guard will be stationed outside courthouse entries. Anyone who has a temperature of 100.4 degrees or higher or isn't able to pass the health screening questions, will not be permitted to enter. Questions will be based on existing entry restrictions as COVID-19 precautions. Court users who are denied entry will be asked to call the designated offices to discuss their options.
Given these added precautionary measures, please plan to arrive extra early to give yourself enough time to go through the screening process.
Beginning this week, the National Guard will be stationed at the following courthouses: Kaahumanu Hale (Circuit Court), Kauikeaoluli Hale (Honolulu District Court), Kapolei Judiciary Complex, and Aliiolani Hale (Hawaii Supreme Court) on Oahu; Hoapili Hale (Wailuku Courthouse) on Maui; Hale Kaulike (Hilo) and Keahuolu Courthouse (Kona) on Hawaii Island; and Puuhonua Kaulike (Lihue) on Kauai.
"These courthouses serve significant numbers of people, and for many their presence is required by law," the Chief Justice said. "Our commitment to access to justice includes helping people feel safe to walk through our doors, especially during this pandemic.
"I can't emphasize enough how much we appreciate this support from the National Guard," he said. "We'll be resuming jury trials in September, so being able to add temperature checks to our safety precaution capabilities should promote greater confidence in our ability to keep people safe as services expand."
For more information, contact the Communications and Community Relations Office at 808-539-4909 or via email at pao@courts.hawaii.gov.
Subscribe to the Hawai'i State Judiciary mailing list for email notification of press releases and other announcements.