Karen Tooko Nakasone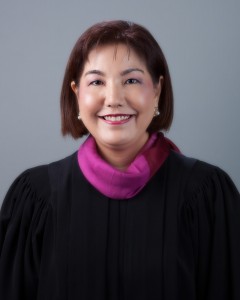 Karen Tooko Nakasone received her judicial appointment in 2011, and is currently serving as a criminal trial judge.  She previously served on the civil trials calendar for five years.  Prior to her appointment, she was a trial and appellate litigator for the State Office of the Public Defender for 15 years.  She also served as a law clerk to Honorable Simeon R. Acoba Jr. at the Intermediate Court of Appeals.  
Judge Nakasone is a 2008 Pacific Century Fellow, and was named 2009 Best Lawyers Under 40 by the National Asian Pacific American Bar Association.   
Judge Nakasone is a graduate of Hawai`i Baptist Academy, Bryn Mawr College, and Boston University School of Law.  She also attended the University of Hawai`i at Manoa and studied abroad at the University of the Ryukyus in Okinawa, Japan, on an Okinawan Prefectural Government scholarship from the Hawai`i United Okinawa Association.