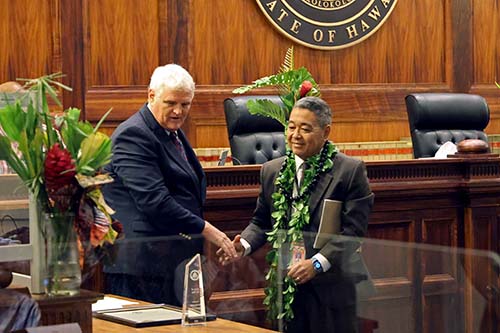 HONOLULU – Third Circuit (Hawaiʻi island) Chief Judge Robert D.S. Kim was presented with the 2023 Jurist of the Year Award by Chief Justice Mark E. Recktenwald at the Judiciary's Statewide Employee Awards Ceremony on September 29.
"Judge Kim was appointed to the bench in 2017 and began serving as Chief Judge in 2020 during the early days of the pandemic," said Chief Justice Recktenwald. "Chief Judge Kim did an exceptional job addressing the challenges brought on by the pandemic, especially with the serious staffing shortage the Third Circuit faced and the temporary closure of the South Kohala Courthouse, working through the myriad of challenges to reopen it and be fully operational. He became the Third Circuitʻs "MacGuyver," innovating ways to keep the work of the courts going, and ensuring that services to the Big Island community were not compromised. He has maintained excellent communications with the Big Island bar, and has convened meetings on pressing challenges such as mentally ill individuals in the criminal justice system. He consistently demonstrates an abundance of aloha, and immediately offered resources and suggestions to support our Maui 'ohana following the wildfires.
"He has been forthright in publicly addressing challenges in the criminal justice system, thereby heightening the trust and confidence the public has in our government."
Click here to view Chief Judge Kim's Jurist of the Year proclamation.
The Jurist of the Year is selected annually by the Chief Justice from nominations submitted by Hawaiʻi attorneys and Judiciary personnel. The award recognizes a full-time trial judge who exhibits exceptional judicial competence, evidenced by decisional quality; significant extra-judicial contributions to the administration of justice; and active participation in public service to the community at large.
In addition to honoring the Jurist of the Year, the Hawaiʻi State Judiciary presented individual and group awards to employees who have distinguished themselves through exceptional service and accomplishments. The recipients of this year's awards are:
Distinguished Service Award (the Judiciary's highest employee award): Curt Shibata, Supreme Court Operations Officer / Bailiff.
Meritorious Service Award: Lisa Kimura, Court Documents Supervisor, Fifth Circuit (Kaua'i and Ni'ihau) Legal Documents.
Group Meritorious Service Award: First Circuit (Oʻahu) Truancy Court & Early Education Intervention Program: Social Workers Anthony Cannon, Garrett Alcott, Letty Di Lillo, Billie Reeves, Blaine Tomita, Roberta Uemura.
Spirit of the Judiciary Award: Armon Tavares, Certified Substance Abuse Counselor, Maui Drug Court, Second Circuit (Maui, Moloka'i and Lāna'i); and Donna Miura, Human Resources Technician, Third Circuit Administration.
Certificate of Commendation: Grayson Hashida, Drug Court Coordinator, Big Island Drug Court, Third Circuit; and Jesse De Rego, Groundskeeper, Second Circuit Facilities Management Branch.
Group Certificate of Commendation: Hilo Legal Documents Branch, Third Circuit: Circuit Court Clerks Leone Ausage Kahihikolo, Kiara Goo, Traci Kanaeholo, Malie Ma'i'i, Kellie Nagai, Cindy Ohigashi, Byron Poy, Morgan Rogers, Joyce Rosal, and Katrina Yogi. District Court Clerks Mona Daniels, Tumamaopavaiai Enos-Godinez, Troy Kahai, and Kiralee Ma-e.
Award for Suggestions: Ernest De Lima, Second Circuit Deputy Chief Court Administrator; and Jennifer Ueki, Human Resources Manager, Judiciary Administration.