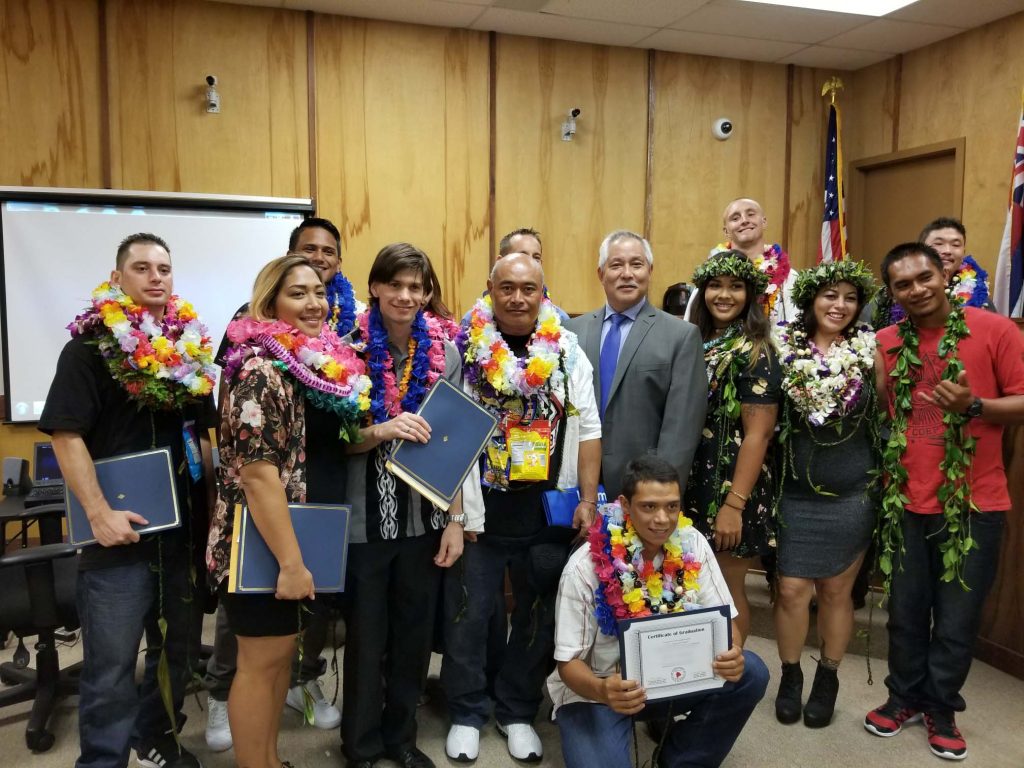 Kona Drug Court graduates celebrate their accomplishments with Judge Melvin Fujino.
The largest contingent ever to graduate from the Kona Drug Court gathered on October 16, 2017, in Judge Melvin Fujino's courtroom. The 13 proud graduates – the most ever in a single cohort – were part of the 42nd graduating class of the Big Island Drug Court (BIDC) program. 
The Big Island Drug Court is a specialty court program, designed to specifically address community problems related to substance abuse to minimize their societal costs, and to protect the Big Island community by providing timely and effective treatment for justice involved youth and adults.
The BIDC was started in 2002 and provides services in Hilo, Kona, and South Kohala (juveniles only). Since the beginning, it has served 492 adult clients, of which 270 have successfully graduated. Ninety-two percent of graduates have not been convicted of new felonies, following three years after graduation.
The BIDC combines, drug treatment with mental health and medical follow-up, quick sanctions and incentives, sober support meetings, frequent court interaction, drug testing and intensive probation monitoring. In addition, all Drug Court graduates also have reliable transportation, have or attained a GED or Competency Based High School diploma, are employed, have made payment towards their restitutions and fines, and have improved family relationships. All of this is done with a team approach to supporting the participants. The judge leads a collaborative effort, which includes the prosecutor's office, public defender's office, private attorneys, substance abuse treatment centers, police, other treatment providers, and probation officers.
Currently, the Kona Drug Court serves a maximum of 70 adult clients and 6 juveniles. The Hilo Drug Court serves a maximum of 70 adults and 12 juveniles. And the South Kohala Drug Court serves approximately 6 juveniles.
If you have any questions about the Big Island Drug Court, please call Grayson Hashida, Drug Court Coordinator, at (808) 443-2201.