Courts In The Community: Hawaii Supreme Court Takes Oral Argument to Waianae
Posted on Dec 10, 2015 in Press Releases
HONOLULU, HI- As part of the Judiciary's Courts in the Community outreach program, the Hawaii Supreme Court heard an oral argument today at Waianae High School. 325 students from Waianae, Campbell, Pearl City and Waipahu High School, as well as Island Pacific Academy had the opportunity to learn more about the Judiciary's role in government and its function in resolving disputes in a democratic society.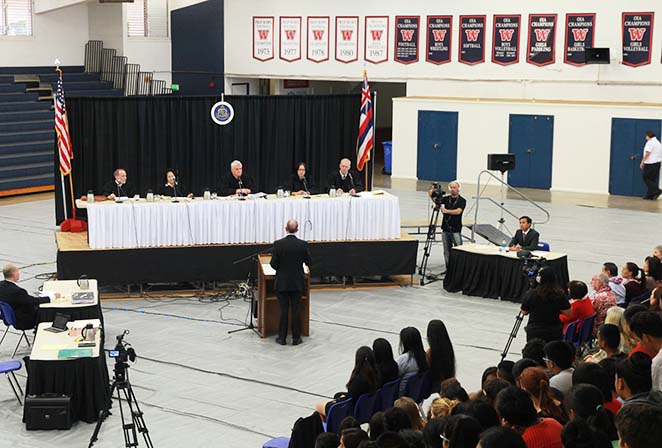 Under the program, the court convenes in schools to hear oral argument in cases pending before the court.  This is the seventh argument in the program, which began in 2012.
To prepare for the oral argument, the participating juniors and seniors from each high school studied a curriculum developed by the Kamehameha V Judiciary History Center and the Students for Public Outreach and Civic Education of the University of Hawaii's William S. Richardson School of Law. Attorneys from the Hawaii State Bar Association volunteered their time and facilitated a moot court activity in the participating classrooms.
"Our Courts in the Community program is about civics education and providing students with a chance to go beyond the textbooks and experience a Supreme Court oral argument in person. We welcome the opportunity to share what we do with students who are passionate about learning more about the legal process," said Chief Justice Mark Recktenwald. "I would like to extend a special mahalo to the teachers, dozens of volunteer attorneys, and the Hawaii State Bar Association. These invaluable partnerships are what make this program a success."
The Hawaii State Bar Association (HSBA) and the Hawaii State Bar Foundation generously provided the students with lunches and transportation to and from their schools in Leeward Oahu.
"I'd like to thank our attorneys who enthusiastically volunteered to visit participating classrooms for pre-event discussions and preparations," said Gregory Markham, HSBA President. "It was exciting to see the students intently following the arguments and asking very probing questions after the official court proceedings."
The court heard an oral argument for In re Garcia v. Robinson. The oral argument was followed by two separate question-and-answer sessions for the students; one with the attorneys and another with the five justices.
If you have any questions or would like to request additional photos or video of the event, please contact the Hawaii State Judiciary Communications and Community Relations Office at (808) 539-4909.
For more information, contact the Communications and Community Relations Office at 808-539-4909 or via email at pao@courts.hawaii.gov.
Subscribe to the Hawai'i State Judiciary mailing list for email notification of press releases and other announcements.