Chief Justice Recktenwald Honored With Peacemaker Award
Posted on Nov 16, 2015 in Press Releases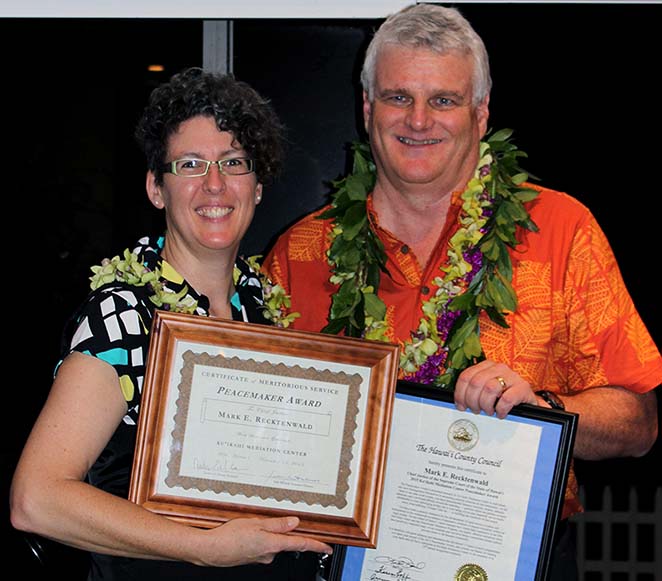 Julie Mitchell, Executive Director of Ku'ikahi Mediation Center, presented Chief Justice Mark Recktenwald with the 'Peacemaker Award'.
HILO, HI– Chief Justice Mark Recktenwald was honored by the Kuikahi Mediation Center, in partnership with the Hawaii County Bar Association (HCBA), at an Annual Recognition Dinner on Sunday, November 15, 2015, in Hilo.
"This year Kuikahi is giving our 'Peacemaker Award' to the Chief Justice of the Hawaii State Supreme Court.  Chief Justice Recktenwald is nationally recognized for his leadership and commitment to increasing access to justice," said Judge Andrew Wilson, Kuikahi's board president. "He has been a strong supporter of alternative dispute resolution and has forwarded our efforts in the courts with programs such as the Hilo Self-Help Center and the Foreclosure Mediation Program."
Under the Chief Justice's leadership, Self-Help Centers were established in six locations statewide, including in Hilo and Kona.  More than 3,860 individuals, who otherwise could not have afforded legal representation, have been assisted on the Big Island, alone. Statewide, the volunteer attorneys at the Self-Help Centers have assisted more than 10,000 people.
"More than half of our clients are at or below the poverty level," said Julie Mitchell, Executive Director of the Kuikahi Mediation Center.  "The Hawaii State Judiciary has made tremendous strides in increasing its access to justice for all by increasing its services both in the courts and online.  We applaud Chief Justice Recktenwald for his vision and continued efforts."
In addition, mediation services are available at the Hawaii State Judiciary's district, circuit and appellate courts.  Chief Judge of the Third Circuit, Ronald Ibarra said: "The Chief Justice has always recognized the value of conflict resolution and conciliation methods and has supported programs, such as our Third Circuit Foreclosure Mediation Program, Family Court's Ohana Conference, and our Court Annexed Arbitration Program."
The Chief Justice has also helped expand services such as the Hawaii Appellate Pro Bono Pilot Project, a divorce mediation program on Kauai, and a paternity mediation pilot project on Oahu.
"I'm honored to receive this recognition from the Kuikahi Mediation Center and the HCBA," said Chief Justice Recktenwald. "It is because of our community partners like the Kuikahi Mediation Center that we are able to expand programs that encourage litigants to use mediation, so that they can attempt to resolve their conflicts on their own terms and at less cost.  We are grateful for this partnership and their continued support." 
HCBA also recognized Attorney Addison M. Bowman, who is a Professor of Law Emeritus at the UH William S. Richardson School of Law and an appellate mediator for the Hawaii Supreme Court, for his many years of service.
For more information, contact the Communications and Community Relations Office at 808-539-4909 or via email at pao@courts.hawaii.gov.
Subscribe to the Hawai'i State Judiciary mailing list for email notification of press releases and other announcements.