District Courthouse at Waimea Civic Center Closed Today, June 26
If you need assistance with a court-related matter, please call 808-961-7440 (Hale Kaulike Courthouse in Hilo) or 808-322-8700 (Keakealani Building in Kona). For more information about filings, visit our website.
Community Welcomes Initial Design Plans for Kona Judiciary Complex
Posted on Dec 18, 2014 in Press Releases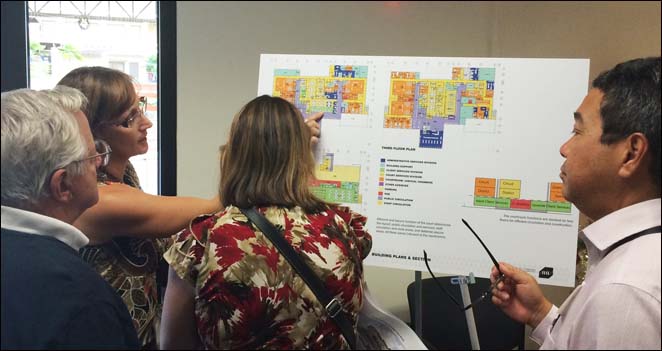 Deputy Chief Court Administrator Dawn West points out the public areas on the plan for the second level of the proposed court complex to Kailua Kona Public Defender Ann Datta, Attorney (retired) Fred Gianini, and (far right) Attorney Robert Kim. (Photo courtesy of Mike Kim, Architects Hawai`i.)
Preliminary renderings and design plans for the Kona Judiciary Complex were unveiled yesterday at the West Hawai`i Civic Center. The response was overwhelmingly positive from the 50-plus people who attended the open house.
"I participated in remodeling a courthouse in England," said Nick Rudd, a retired construction inspector who lives in Kailua Kona. "This Kona courthouse is impressive."
The attendees, which included community residents, representatives from state and city government and nearby businesses, and members of the West Hawai`i Bar had the opportunity to ask questions and provide input directly to Third Circuit Chief Judge Ronald Ibarra, Administrative Director of the Courts Rodney Maile, Chief Court Administrator Lester Oshiro, Deputy Chief Court Administrator Dawn West and other officials and staff from the Hawai'i State Judiciary. Representatives from the Department of Accounting and General Services and Architects Hawai`i, the architectural firm that is responsible for the building's design, were also present to answer questions.
The complex is to be built on a ten-acre parcel located mauka of Queen Ka'ahumanu Highway, and across Makala Boulevard from the Makalapua Center. In addition to having significant security and electronic equipment provisions, the new complex is being designed to be water, energy and environmentally efficient and sustainable. As currently planned, the three-story, 143,000-square-foot complex will have at least 5 courtrooms (with space on site to add additional courtrooms and offices in the future), conference rooms, a law library, a self-help center and nearly 300 parking stalls.
"We appreciate the community's feedback and support for a judiciary complex to better serve West Hawai`i," said Third Circuit Chief Judge Ronald Ibarra. "This courthouse will ensure that the Judiciary can fulfill its mission of providing justice for the West Hawai`i community in a secure and efficient venue."
Judge Ibarra said the Judiciary has long noted the need to consolidate Kona court proceedings, which are currently held in three different locations. "Those venues were not originally designed for court operations and present a myriad of logistical and security challenges," he said.
Hawaii County Council Chair Dru Kanuha, a guest at the event, said, "I am very pleased that the Kona Judiciary Complex project is moving forward. The West Hawai'i community has been in need of a courthouse for so long. We appreciate our legislature for providing the initial funding for this important project and encourage them to appropriate the remaining funds needed to complete the construction at this legislative session."
The total expected cost in construction funds for the Kona Judiciary Complex is $90 million. The legislature has committed $35 million thus far to fund the Kona Judiciary Complex, and the Judiciary will be seeking the remaining $55 million needed during the 2015 legislative session.
For more information, contact the Communications and Community Relations Office at 808-539-4909 or via email at pao@courts.hawaii.gov.
Subscribe to the Hawai'i State Judiciary mailing list for email notification of press releases and other announcements.