Richardson Named 2012 Jurist of the Year
Posted on Oct 24, 2012 in Press Releases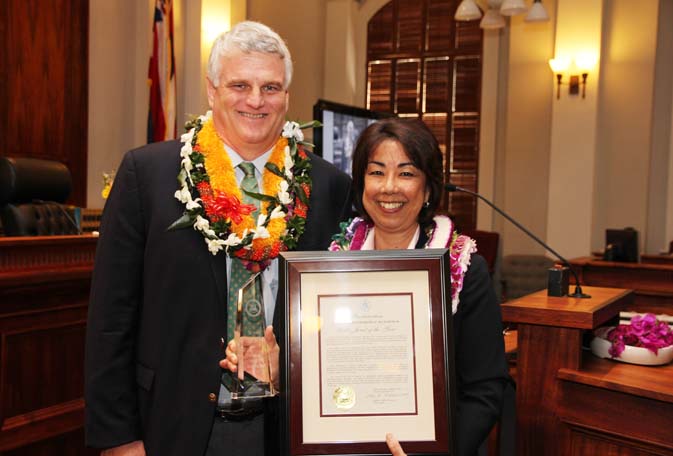 Judge Barbara Richardson holds an engraved crystal award and a framed proclamation. She is pictured here with Chief Justice Mark Recktenwald after receiving the award.
Barbara Richardson, deputy chief judge of the First Circuit District Court, was named the 2012 Jurist of the Year by Hawaii Supreme Court Chief Justice Mark Recktenwald. Judge Richardson was recognized on October 23, 2012 in an awards ceremony held at the Supreme Court courtroom.
The Jurist of the Year is selected for exceptional judicial competence evidenced by decisional quality, significant extra-judicial contributions to the administration of justice, and active participation in public service to the community at large.
Judge Richardson, who was first appointed to the bench as a full-time district court judge in 2000, recently collaborated with the Hawaii State Bar Association, Hawaii Access to Justice Commission and the Legal Aid Society of Hawaii to have volunteer attorneys and AmeriCorps representatives available two days a week at an "Access to Justice Room" located in the Honolulu District Court courthouse. The attorneys provide short-term legal advice to unrepresented parties involved in landlord tenant cases, collection cases, and temporary restraining order cases.
Judge Richardson also helped implement the Hawaii Court Records Rules and the JIMS District Court Criminal project where misdemeanor cases documents are filed and accessed electronically.
"Judge Richardson is a strong leader with a collaborative and inclusive style," said Chief Justice Recktenwald. "She is a gracious and supportive colleague, who was recognized by her peers when she was elected President of the Hawaii State Trial Judges Association, and her leadership and vision continue to inspire Hawaii's legal community."
Also at the ceremony, the Chief Justice, Chief Judges, and other Judiciary officials honored employees for their outstanding service or for achieving a benchmark number of years employed in public service.
For more information, contact the Communications and Community Relations Office at 808-539-4909 or via email at pao@courts.hawaii.gov.
Subscribe to the Hawai'i State Judiciary mailing list for email notification of press releases and other announcements.