State Court Employees Contribute $19,489 to Japan Relief Fund
Posted on Apr 27, 2011 in Press Releases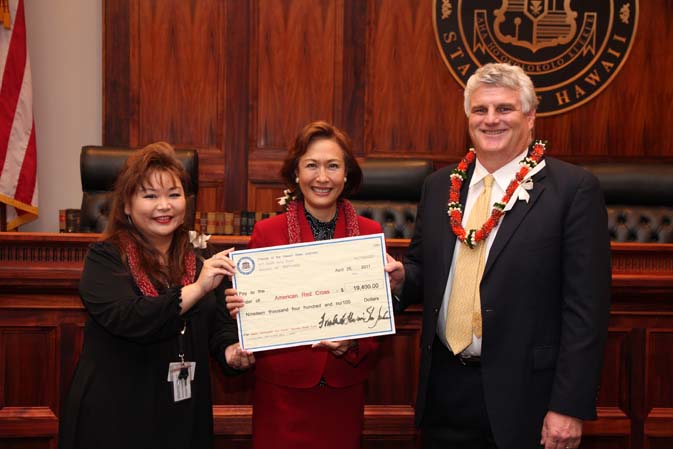 On behalf of the employees of the Hawaii State Judiciary, the Judiciary's statewide Japan Relief Fund coordinator Lori Okita (far left) yesterday presented a $19,489 check for the Japan Earthquake and Pacific Tsunami Relief Fund to Coralie Matayoshi (center), Chief Executive Officer of the American Red Cross, Hawaii Chapter. The Judiciary's donation will be used by the American Red Cross to assist the survivors of the devastating earthquake and tsunami that hit Japan on March 11.
During the presentation, Okita and Chief Justice Mark Recktenwald (far right), thanked the employees who contributed.
Okita said she was very pleased at how much she and the other site coordinators were able to collect in a little over one month's time, but was not surprised at the generosity of the "Judiciary ohana."
For more information, contact the Communications and Community Relations Office at 808-539-4909 or via email at pao@courts.hawaii.gov.
Subscribe to the Hawai'i State Judiciary mailing list for email notification of press releases and other announcements.