Judge Takase Recognized As 'Distinguished Alumni' at UH Hilo
Posted on Mar 4, 2016 in Featured News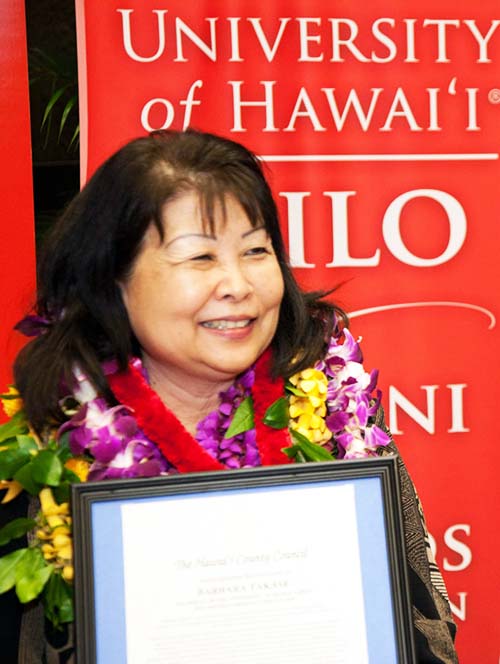 Third Circuit Deputy Chief Judge Barbara Takase was recognized as a 'Distinguished Alumni' by UH Hilo at a special awards banquet held on Saturday, February 27, 2016. She was recognized for her many contributions to the community as a social worker, victim/witness counselor, prosecuting attorney, administrative hearings officer, District Court Judge and Deputy Chief Judge of the Third Circuit. She has been serving on the bench for about 17 years and is described by friends and colleagues as humble, dedicated, and compassionate. 
"I believe she is an excellent candidate for the award," said Third Circuit Chief Judge Ronald Ibarra. "Her professional accomplishments coupled with her personal achievements are amazing. She takes everything in stride and does not shy away from the tough cases.  She is very dedicated to her position and we can rely on her as a Deputy Chief Judge to carry out the policies of the Third Circuit."
Also recognized at the Distinguished Alumni and Service Awards were Joseph Estrella, Jr., Noreen Yamane, and the late Dr. Jim Kelly. Congratulations to Judge Takase and all for this prestigious recognition!