DWI Court Celebrates Its 18th and 19th Graduates
Posted on Nov 20, 2015 in Featured News
On November 19, 2015, the Honolulu DWI (Driving While Impaired) Court held a ceremony to celebrate its 18th and 19th graduates.    
DUI defense attorney and DWI Court Committee Member Patrick McPherson addressed those currently enrolled in the program and talked about how difficult alcoholism is on families and other relationships. 
McPherson encouraged them to keep up the good work, saying, "This is a commitment that will change your life forever.  Not only does the DWI Court benefit the program participants; it reaches far beyond that, helping participants' families and friends as well.  We've seen this through the involvement of family members in the DWI Court program." 
In closing, he shared with the audience that, "It is because of successes like these that we want to expand the program." 
For more information, or to apply to the DWI Court, go to:  http://bit.ly/1p81JQb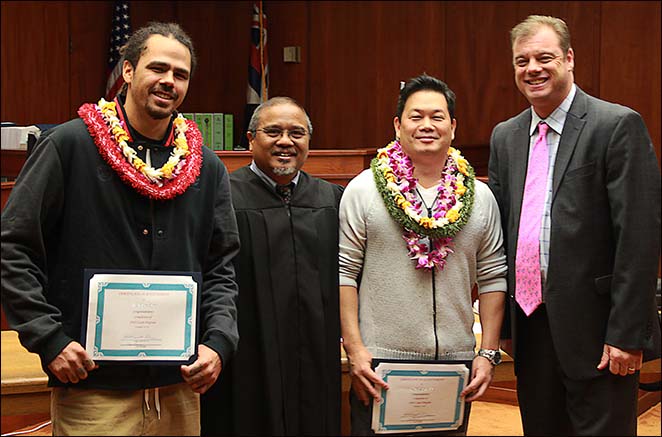 District Court Judge William Domingo (second from left) is joined by DUI defense attorney and DWI Court Committee Member R. Patrick McPherson (far right) to congratulate the DWI Court's 18th and 19th graduates.