Community Volunteers Give Hale Hilinai a Makeover
Posted on Jul 15, 2015 in Featured News
The former Juvenile Detention Center got a much needed makeover thanks to community volunteers who put some heart, and color, into the aging Alder Street facility. The entire facility was given a fresh coat of paint, both inside and out. In addition to the painting, the community garden was cleaned and spruced up. Twenty-eight volunteers, including youth, invested their time and raised money to make these improvements. The improvements help create a healing space for all the youth who benefit from the programs and services available at Hale Hilinai.
Hawaii State Judiciary's First Circuit Family Court wants to extend a special thanks to the Construction Management Association of America, Hawaii Chapter, and its leadership, Connie Chong, Derek Mukai, Les Hunkele, and Tim Bramsen, for their support and assistance in making improvements to the home of the Juvenile Accountability Program. 
Judge R. Mark Browning, Senior Judge of the Family Court in the First Circuit, said, "We are grateful to all the volunteers and CMMA for their caring and generosity. The time and work they gave to our children is a testament to the Aloha spirit and innate goodness that exists in our community."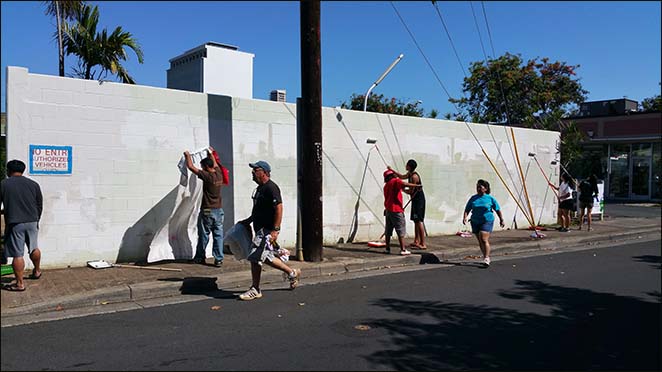 Construction Management Association of America hosts its 2nd Annual Community Service Day at Hale Hilinai. Pictured above are volunteers painting the exterior wall, which faces Alder Street.