Judiciary systems including JEFS, eCourt Kokua, and Document Drop-off will be unavailable due to maintenance work beginning midnight Friday, September 23, to noon, Sunday, September 25. If work is completed sooner, systems may be restored earlier. Applications, including eReminder, eJuror, and eTraffic will not be affected. Thank you for your patience and understanding.
---
DWI Court Program Helps Graduates Find New Sense of Self and Life
Posted on Jun 25, 2015 in Featured News
On June 18, 2015, the Honolulu DWI Court held a graduation ceremony to acknowledge the hard work, dedication, and achievements of three individuals who successfully completed the DWI Court Program.
In addressing those gathered for the ceremony, each graduate spoke about how the program helped them find a new sense of self and life.
Honolulu criminal defense attorney Jonathan Burge also shared his observations with the assembly, saying, "This DWI Court is a program that changes lives. …It teaches you how to stay sober, and it ultimately saves lives!"
Following the ceremony, defense attorney and DWI Court Committee Member R. Patrick McPherson expressed his enthusiastic support for what the program has accomplished, saying, "The DWI Court helps treat the addiction and illness so that individuals get their life back; they become the person they were before their addiction. Moreover, the program protects our community by keeping some of the most dangerous drivers off the road. In both ways, the DWI Court is working for Hawaii!"
Congratulations to everyone for a great team effort!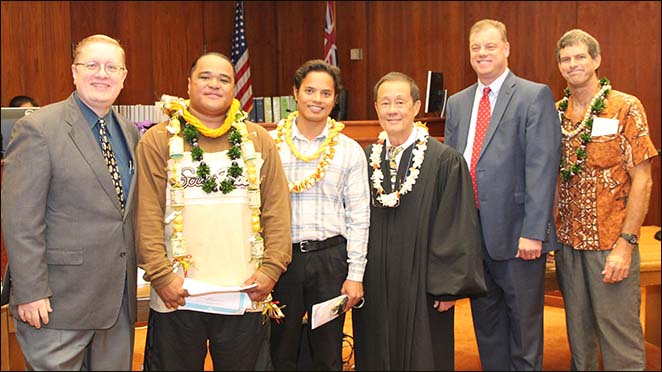 Pictured above from left to right are criminal defense attorney, Jonathan Burge, Graduate Asotau Uikirifi, Graduate Joseph Unpingo, Judge David Lo, DUI defense attorney and DWI Court Committee Member R. Patrick McPherson, and Graduate John Morgan.