COURTS IN THE COMMUNITY: Hawaii Supreme Court takes Oral Argument to Mililani High School
Posted on Dec 4, 2014 in Featured News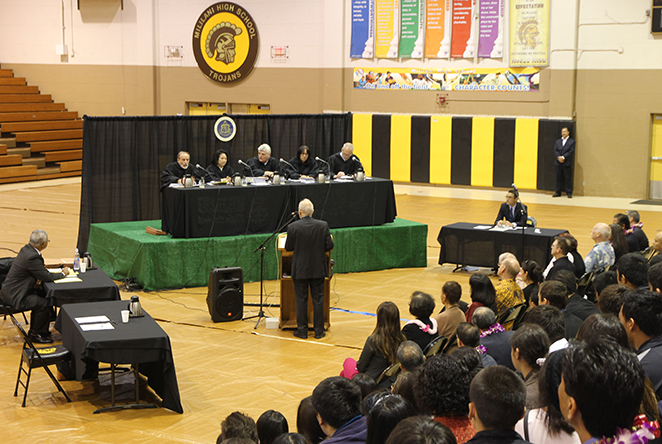 HONOLULU- On December 4, the Hawaii Supreme Court heard oral arguments at the Mililani High School Gymnasium before an audience of approximately 325 students from Mililani High School, Radford High School, Leilehua High School, Waialua High and Intermediate School, Assets School, Hanalani Schools, and Hoala School, as well as members of the public.
It was part of the Judiciary's Courts in the Community outreach program, which educates students and informs the general public about the Judiciary's role in government and its function in resolving disputes in a democratic society.
The court heard oral arguments in Samson vs. Nahulu. The oral argument was followed by two separate question-and-answer sessions for the students; one with the attorneys and another with the five justices.
To prepare for the oral argument, the participating juniors and seniors from each high school studied a curriculum developed by the Kamehameha V Judiciary History Center and the Students for Public Outreach and Civic Education of the University of Hawaii's William S. Richardson School of Law. Attorneys from the Hawaii State Bar Association volunteered their time and facilitated a moot court activity in the participating classrooms.
"This gave students the opportunity to go beyond the textbooks and experience a Supreme Court oral argument in person," said Chief Justice Mark Recktenwald. "As part of our Courts in the Community program, we have had the opportunity to hold oral arguments for high school students across the state. This wouldn't be possible without the time, commitment, and partnership of the teachers and the volunteers from the Hawaii State Bar Association. We are truly grateful for their continued support."
The Hawaii State Bar Association and the Hawaii State Bar Foundation also generously provided the students with lunches and transportation to and from Mililani High School.
"These young men and women are the future leaders of our state," said HSBA President Calvin Young. "It was wonderful to see them engaged and taking interest in the judicial process. I want to thank each of our members who have taken the time to go into the classrooms and invest in these students. We are also thankful for the opportunity to partner with the Hawaii State Judiciary in this meaningful outreach program."
"I want to thank the Chief Justice and the Associate Justices for coming to Central Oahu and partnering with local attorneys to expose our high school students to the important role the courts have on protecting our rights and community standards," said State Representative Marcus R. Oshiro (46th District- Wahiawa, Whitmore Village and Launani Valley).
Oshiro, an attorney in private practice, participated as one of the volunteer attorneys and student advisors for the event. He continued, "It was sheer joy as a Leilehua High School Alumnus to work with students on this real case. Their analysis and comprehension of the complex legal issues was impressive and shows the best of our public school students."