Hawaii Justice Foundation's Annual Meeting
Posted on Oct 23, 2014 in Featured News
More than 150 people gathered at the Hawaii State Supreme Court Courtroom for the Hawaii Justice Foundation's (HJF) Annual Meeting on Wednesday, October 22, 2014.
HJF Executive Director Robert J. LeClair and HJF President William Hunt introduced Chief Justice Mark E. Recktenwald to provide introductory remarks. The Chief Justice applauded the efforts of HJF and all stakeholders involved in expanding access to justice and encouraged the group to keep up the momentum.
Intermediate Court of Appeals Associate Judge Daniel R. Foley described the Access to Justice Commission activities during the past year. Judge Foley was also presented with the "Spirit of Justice" award for his leadership and commitment as the longest-serving Hawaii Access to Justice Commission Chair.
The event wrapped up with keynote speaker Professor James H. Pietsch, Professor and Director of University of Hawaii Elder Law Program at the Wiilliam S. Richardson School of Law, U.H. Manoa. He spoke about "Access to Justice for our Kupuna and their Caregivers," encouraging expanded community outreach and efforts to protect Hawaii's growing elderly population.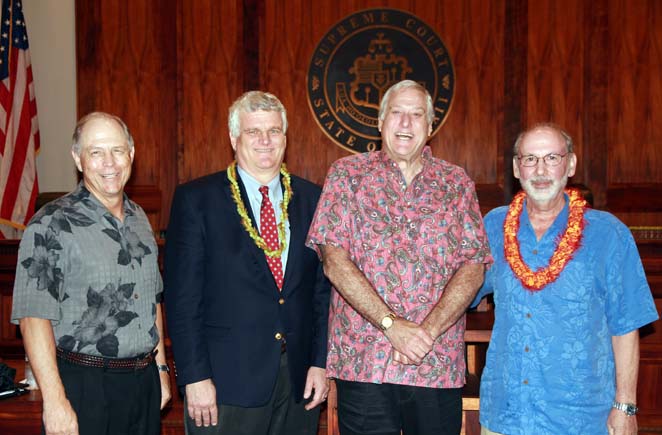 Pictured from left to right are: William Hunt, HJF Presdient; Chief Justice Mark Recktenwald; Robert J. LeClair, HCF Executive Director; and Intermediate Court of Appeals Associate Judge Daniel R. Foley at the Hawaii Justice Foundation's Annual Meeting.