Family Drug Court Program Celebrates Reunification Month
Posted on Jun 24, 2014 in Featured News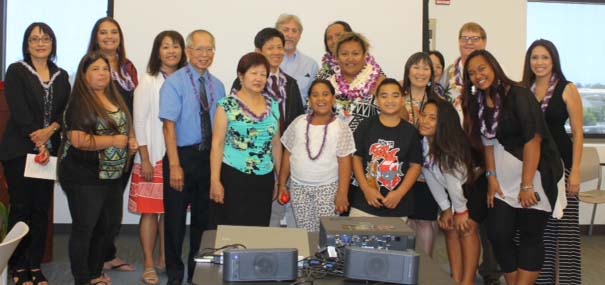 In honor of National Reunification Month, the First Circuit Family Drug Court Program and the Hawaii State Department of Human Services (DHS) celebrated the success of former Family Drug Court clients, Vivian and Randy Kim-Seu, with a luncheon on June 20 at the Ronald T.Y. Moon Kapolei Court Complex. Present were the Kim-Seu's, their daughters, and their team of supporters including staff from the Family Drug Court Program and DHS' Child Welfare Services.
The American Bar Association designated June as National Reunification Month to celebrate the accomplishments of parents like Vivian and Randy in getting their children home.
Vivian Kim-Seu and her husband Randy, were able to reunite with Vivian's four daughters a little more than a year ago after both graduated from the Family Drug Court program. For Vivian, it had been 10 years since her daughters were placed in foster care.