YWCA of Oahu to Honor Retired Judge Radius
Posted on May 27, 2014 in Featured News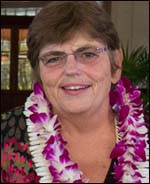 Retired First Circuit Family Court Judge Karen Radius will be recognized by the YWCA of Oahu as one of its "2014 Leader Luncheon Honorees" on June 3, 2014 at the Sheraton Waikiki Hotel.
Judge Radius' many achievements include starting the state's first Juvenile Drug Court program in 2001 and the Girls Court program in 2004. She was honored as the Hawaii State Judiciary's "Jurist of the Year" in 2007. Since Judge Radius' retirement, she has continued to serve as a per diem judge in Family Court and has remained active both locally and nationally on issues surrounding juvenile justice and increasing services and creative programs to support our youth. Congratulations, Judge Radius!
The YWCA is also honoring Marilyn Moniz-Kaho`ohanohano, University of Hawaii Associate Athletics Director and Senior Women Administrator; Dr. Cecile D. Sebastian, Founder of Smiles for Success; and Helen Wai, Financial Literary Consultant.