COURTS IN THE COMMUNITY: Hawaii Supreme Court Takes Oral Argument to Big Island
Posted on Apr 29, 2014 in Featured News
KONA- On April 29, the Hawaii Supreme Court heard oral arguments at the Kealakehe High School Gymnasium before an audience of approximately 600 students from Kealakehe High School, Kohala High School, Konawaena High School, Kau High School, Kua O Ka La New Century Public Charter School, Makua Lani Christian Academy and West Hawaii Explorations Academy, as well as members of the public.
It was part of the Judiciary's Courts in the Community outreach program, which educates students and informs the general public about the Judiciary's role in government and its function in resolving disputes in a democratic society.
 The court heard oral arguments in Molfino v. Yuen. The oral argument was followed by two separate question-and-answer sessions for the students; one with the attorneys and another with the five justices.
"We wanted to take an oral argument, which would have otherwise been held in Honolulu, and bring it to the West Hawaii community. This gives students the opportunity to go beyond the textbooks and experience a Supreme Court oral argument in person," said Chief Justice Mark Recktenwald. "We thank the teachers and the West Hawaii Bar Association for their time, commitment, and partnership in making today possible."
 To prepare for the oral argument, the participating juniors and seniors from each high school studied a curriculum developed by the Kamehameha V Judiciary History Center and the Students for Public Outreach and Civic Education of the University of Hawaii's William S. Richardson School of Law. The students' study was followed by a moot court activity facilitated by members of the West Hawaii Bar Association. The Hawaii State Bar Association and the Hawaii State Bar Foundation generously provided the students with lunches and transportation to and from Kealakehe High School.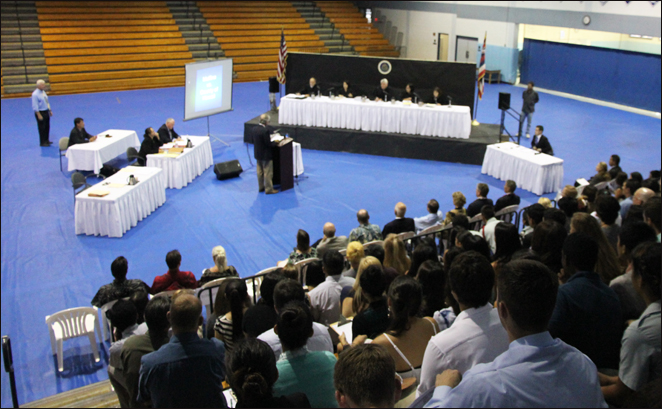 Approximately 600 students watched a Hawaii Supreme Court oral argument in Kailua-Kona. After the proceeding, the students had the opportunity to participate in a question-and-answer session with the justices.