Mahalo for Helping Our Veterans
Posted on Mar 14, 2014 in Featured News
The many lawyers, law clerks, law students and staff who volunteered at November's "Ask-a-Lawyer" event were personally thanked by First Circuit Judge Ed Kubo for helping veterans with their legal issues. After presiding over Hawaii Veterans Treatment Court proceedings, Judge Kubo presented each volunteer with a Certificate of Appreciation in his courtroom on March 14.
The "Ask-a-Lawyer" event coincided with Veterans Day and was sponsored by the State Judiciary and Volunteer Legal Services of Hawaii. The event is just one of many Access to Justice programs that has been implemented statewide.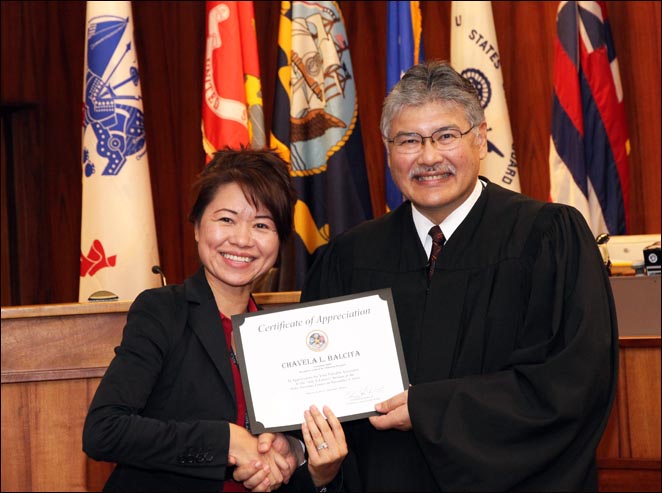 First Circuit Court Clerk Chavela Balcita (above left) was one of many individuals recognized by Veterans Treatment Court Judge Ed Kubo for volunteering to help veterans with their legal issues at a Veterans Day "Ask-A-Lawyer" event.