Calming Presence Eases Veterans in Court
Posted on Oct 23, 2013 in Featured News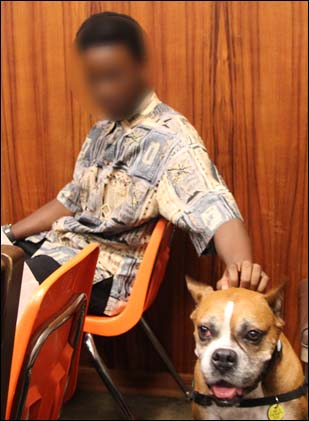 Appearing before a judge in a criminal case can be a traumatic experience for anyone, but the process can be even more difficult for veterans, many of whom have PTSD. First Circuit's Veterans Treatment Court has a new "tool" at its disposal to help its veterans while they wait to appear before the judge, and her name is Athena.
Athena is an eight-year old, certified service and therapy dog. Her owner, Ron Stebbins, adopted Athena from the Hawaiian Humane Society. Athena and Ron, a retired U.S. Army lieutenant colonel, are volunteers with the Hawaiian Humane Society's Pet Visitation Program and have been present in Veterans Court every Friday afternoon since starting on September 27.
"I have no doubt that Athena's calming presence helps put our veterans at ease," said Judge Ed Kubo, who is also a veteran. "I am grateful for the service that Athena and Mr. Stebbins are providing to our veterans, and to the Hawaiian Humane Society for helping us obtain their services."
Hawaii is the second Veterans Court in the nation to use a therapy dog in court. Michigan was the first.