Justice Simeon Acoba of Hawaii to Receive National Award
Posted on Sep 5, 2013 in Featured News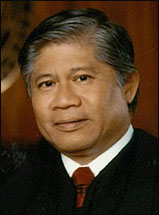 Nashville, Tennessee – Honorable Simeon Acoba, Justice of the Supreme Court of Hawaii, has been selected to receive the Ninth Annual Dwight D. Opperman Award for Judicial Excellence from the American Judicature Society. AJS President Martha Hill Jamison of the 14th Court of Appeals of Texas said that, "Justice Acoba's record reflects a superb commitment to judicial excellence."
In his nomination letter, Chief Justice Mark Recktenwald of the Hawaii Supreme Court said, "Justice Acoba has been a sitting judge in Hawaii state courts for nearly 35 years, and has served at every level of the state court system… I believe his extensive judicial experience, commitment to public service, and leadership in the area of access to justice makes him an excellent candidate for this award."
Justice Acoba has served nearly fourteen years on the Hawaii Supreme Court. Chief Justice Recktenwald said that Justice Acoba is "renowned for being one of Hawaii's most prolific jurists," having issued more than 200 published majority opinions and nearly the same number of concurring and dissenting opinions. Justice Acoba presently serves as co-chair of the Hawaii State Bar Association's Judicial Administration Committee, which is responsible for coordinating the bar's activities relating to the improvement of the judiciary and the administration of justice. In supporting his nomination for the Opperman Award, Hawaii Attorney General David M. Louie stated that Justice Acoba "has made extraordinary contributions to ensuring access to justice." From 2008 to 2010, Justice Acoba served as Founding Chair of Hawaii's Access to Justice Commission, and has continued to be an active member of the Commission, serving as Chair of various subcommittees. Under his leadership, the Commission initiated a partnership with the Judiciary, the Legal Aid Society of Hawaii, Americorps, and state and local bar associations to open Self-Help Centers, or Access to Justice Rooms, in Hawaii's courthouses.
In supporting Justice Acoba's nomination, former Hawaii Governor Benjamin J. Cayetano wrote, "There is no shortage of intelligent jurists in our legal system, however, I believe what distinguishes Justice Acoba is his deep commitment to expanding access to justice for all." Similarly, Liann Ebesugawa, President of the Honolulu Chapter of the Japanese American Citizens League, wrote, "Justice Acoba remains a beacon of integrity and trust for our community."
Justice Acoba began his legal career as a law clerk to Chief Justice William S. Richardson of the Hawaii Supreme Court, and then served as Deputy Attorney General, and as Director of the Legal Aid Society of Hawaii. He is a graduate of the University of Hawaii at Manoa, and received his J.D. from Northwestern University School of Law. He has served as an Adjunct Professor at the University of Hawaii School of Law and at Hawaii Pacific University.
Justice Acoba was chosen by a three-member panel: Justice Christine Durham of the Utah Supreme Court and last year's Opperman Award recipient, Judge Edward C. Clifton of Rhode Island, and Judge Judith McConnell of California. The American Judicature Society (AJS) created the Dwight D. Opperman Award for Judicial Excellence to honor state trial and appellate judges for distinguished judicial service. The award is named for Dwight D. Opperman, former chairman and CEO of West Publishing Company. Opperman was a Distinguished Lifetime Director of AJS.
---
A press release was written and issued by the American Judicature Society on September 4, 2013. For additional information, contact James J. Alfini at (800) 626-4089 or jalfini@ajs.org