Girls Court: It Takes A Village
Posted on Aug 30, 2013 in Featured News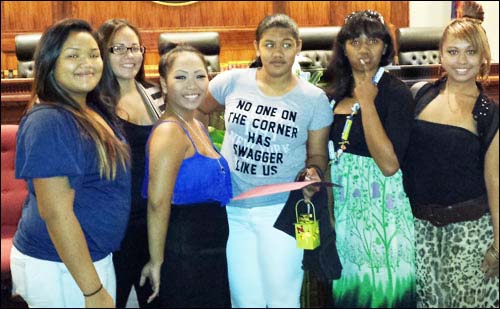 Girls Court participants celebrated a one-year milestone during a ceremony at Ali`iolani Hale.

On August 23 in the Hawaii Supreme Court courtroom, six girls marked a major achievement in their journey under court supervision by successfully completing their first year in the First Circuit Family Court's Girls Court program. The girls celebrated their accomplishment with families, friends, Girls Court staff, and others including Justice Sabrina McKenna, Senior Family Court Judge R. Mark Browning, presiding Girls Court Judge Jennifer Ching, and representatives from treatment providers, social service agencies, and private and nonprofit entities.
The theme of the ceremony, "It Takes a Village to Raise a Teen Girl," refers to the many public and private organizations that collaborate with the Girls Court program. In addition to the monthly court hearings and intensive supervision for which the court is responsible, members of the "village" provide individual, family and family group therapy; healthy relationship classes; life skills training; random drug testing and referrals for treatment; creative and literary arts programs; mentoring; recreational activities with a focus on life lessons; community service learning opportunities; cultural activities and other services.
The Family Court is grateful for the "village" and the range of gender-specific programming it provides to meet the needs of the Girls Court's girls and their families.