Access to Justice Briefing Held for Leeward Residents
Posted on Dec 27, 2012 in Featured News
On the evening of December 11, Leeward area residents attended a community briefing at the Waianae District Park to hear from representatives from the Hawaii State Judiciary, the Access to Justice Commission (the Commission) and legal service providers about what is being done in the area of access to justice.
State representatives Karen Awana, Della Au Belatti and Jo Jordan, and State Senator Maile Shimabukuro helped sponsor the event. Au Belatti, Jordan, Simabukuro, Chief Justice Mark Recktenwald, Associate Justice Simeon Acoba, Hawaii State Bar Association President Carol Muranaka, and William S. Richardson School of Law Dean Avi Soifer were also in attendance.
The purpose of the event was to fulfill several of the Commission's goals, such as educating the public about the importance of equal access to justice, assessing the problems low- and moderate-income people are facing in gaining access to the civil justice system, and increasing awareness of legal rights and of resources for legal assistance.
Chief Justice Recktenwald spoke about the Judiciary's effort in improving access to the judicial system, including the implementation of self-help centers and access to justice rooms, and the establishment of the Commission. Justice Acoba, representing the Commission, addressed the Commission's functions, the role that lawyers play, and gave examples of some of the Commission's initiatives such as the Foreclosure Mediation Pilot Project.
Representatives from the Domestic Violence Action Center, Hawaii Appleseed Center for Law and Economic Justice, Legal Aid Society of Hawaii, Native Hawaiian Legal Corporation, and Volunteer Legal Services Hawaii made brief presentations and met with audience members after the program.
In addition to the briefing held in Waianae, three other community briefings were held in 2012; one in Makiki on Oahu, one on the Windward side of Oahu, and one on Maui.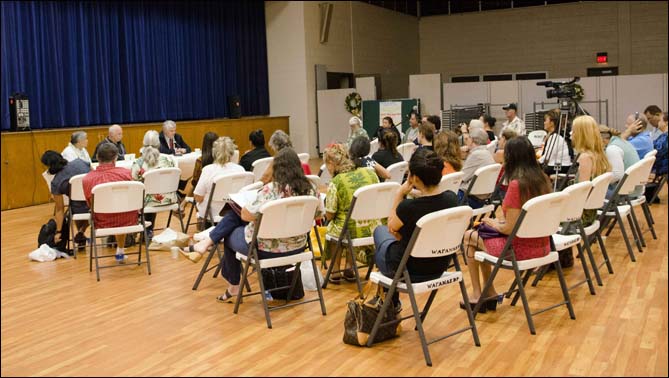 Area residents gathered at Waianae District Park to hear about access to justice initiatives and to dialogue with the panelists.