Tribute to the Late Chief Justice William S. Richardson
Posted on Aug 10, 2011 in Featured News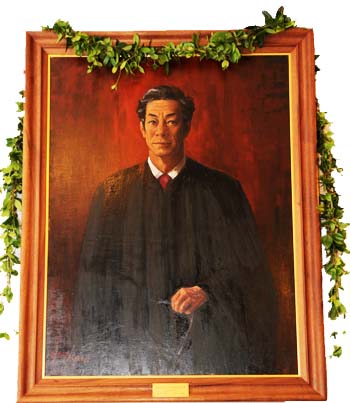 A maile lei was draped around the painting of the late William S. Richardson outside of the Judiciary's Supreme Court courtroom in preparation for "Ho`okupu Makou ia Richardson," an event sponsored by the William S. Richardson School of Law and the King Kamehameha V Judiciary History Center to pay tribute to the former Chief Justice.
More than 100 people attended the event on Monday, August 8, to hear Chief Justice Richardson described by the distinguished speakers as a great friend, mentor, family man, community leader, judicial innovator, and a man who "lived his life with true Aloha." The program opened with a greeting by Rodney Maile, administrative director of the courts. Kahikino Noa Dettweiler chanted an oli he wrote for the occasion called, "Oli Aloha No William S. Richardson."
The speakers for the event were Chief Justice Mark Recktenwald; Associate Justice Simeon R. Acoba, Jr.; UH Law School Dean Avi Soifer; UH Law School Professors Melody MacKenzie and Mari Matsuda; Ivan Lui-Kwan, a partner with Starn O'Toole Marcus & Fisher; and UH Law Review Editors Lynda Arakawa and Christopher Leong; and some of Chief Justice Richardson's former law clerks.

[ Listen to an audio recording of the program in mp3 format ]