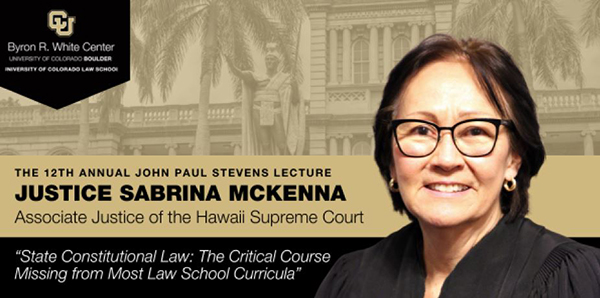 [Video recording now available.]
Hawaiʻi Supreme Court Justice Sabrina S. McKenna will join the Colorado Law community to deliver the 12th Annual John Paul Stevens Lecture, entitled "State Constitutional Law: The Critical Course Missing from Most Law School Curricula." Justice McKenna will engage in a fireside chat with Professor Suzette Malveaux about the historical and continued importance of state constitutions in the protection of civil, criminal, and environmental rights.
The event will be livestreamed at 1 p.m. Hawaiʻi time on Thursday, Oct. 26. You must register to receive the livestream link.
Justice McKenna joins a list of prestigious jurists — including six U.S. Supreme Court justices — who previously presented in this lecture series named for the former SCOTUS associate justice. She will be the second state court justice, and the first Asian American Pacific Islanders (AAPI) and LGBTQ speaker.
For more information, contact the Communications and Community Relations Office at 808-539-4909 or via email at pao@courts.hawaii.gov.
Subscribe to the Hawai'i State Judiciary mailing list for email notification of press releases and other announcements.