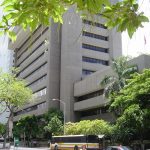 HONOLULU – Kauikeaouli Hale (Honolulu District Courthouse), located at 1111 Alakea St., will reopen on Tuesday, Aug. 22. An assessment determined the building to be safe for occupancy after a contractor inadvertently caused some structural damage last Tuesday evening.
Cases scheduled in courtrooms 4B, 7C, and 7D will resume tomorrow. Temporary restraining order and injunction hearings in courtroom 10B will also resume tomorrow.
Cases scheduled in courtrooms 7A, 7B, 10A, 10C, and 10D will be rescheduled. Small claims cases in courtroom 10B in the afternoon will also be rescheduled.
Cases in courtrooms 8B, 8C, and 8D will proceed as scheduled.
The Judiciary appreciates the patience and understanding of court users during the unplanned closure.
For more information, contact the Communications and Community Relations Office at 808-539-4909 or via email at pao@courts.hawaii.gov.
Subscribe to the Hawai'i State Judiciary mailing list for email notification of press releases and other announcements.