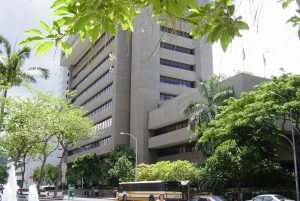 HONOLULU — Kauikeaouli Hale (Honolulu District Courthouse) located at 1111 Alakea Street will be closed on Thursday as a necessary structural assessment continues. This is being done as a precautionary measure as a result of inadvertent structural damage caused by a contractor working in the building Tuesday evening.
"We sincerely apologize for this unplanned closure, but the safety of our court users and staff is paramount," said Lori Okita, First Circuit Chief Court Administrator. "Individuals with court hearings and trials that have been canceled will be notified of their new court dates."
All Honolulu District Court cases in courtrooms  4B, 7A, 7B, 7D, 10A, 10B, 10C, and 10D will be rescheduled. The Judiciary is also continuing the non-custody criminal arraignments scheduled in 7D.
Family Court cases scheduled to be heard in 8B, 8C, and 8D and new custody matters will be heard at Kaʻahumanu Hale on Punchbowl Street. All other matters will be rescheduled.
Chief Justice Mark E. Recktenwald issued an order extending the deadline for filing documents due on August 17, 2023 to August 21. 2023. Hearings or trials that had to be cancelled shall be rescheduled to the next available date. 
For more information, contact the Communications and Community Relations Office at 808-539-4909 or via email at pao@courts.hawaii.gov.
Subscribe to the Hawai'i State Judiciary mailing list for email notification of press releases and other announcements.