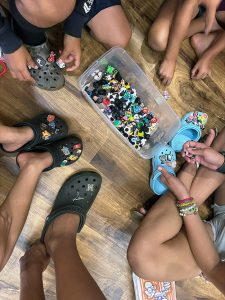 LIHUʻE, Hawaiʻi — Oh my! Olympic Day in the Fifth Circuit certainly was a fun-filled time for 28 youth to engage with 15 service providers and resource caregivers through games, activities, and food!
The event is modeled after the "Teen Day" events put on by HI H.O.P.E.S in the First and Third Circuit Family Courts for youth in foster care. The acronym stands for Hawaii Helping Our People Envision Success.
This year's Olympic Day on June 9 was the first since the pandemic. It was held at the Kaua'i Community College.
"HI H.O.P.E.S. collaborated with Lili'uokalani Trust and Hale 'Opio Kaua'i to bring this joyful event to our youth," said District Family Court Judge Stephanie R.S. Char. "We canʻt thank them enough for supporting our keiki and young adults as they navigate life."
For more information, contact the Communications and Community Relations Office at 808-539-4909 or via email at pao@courts.hawaii.gov.
Subscribe to the Hawai'i State Judiciary mailing list for email notification of press releases and other announcements.