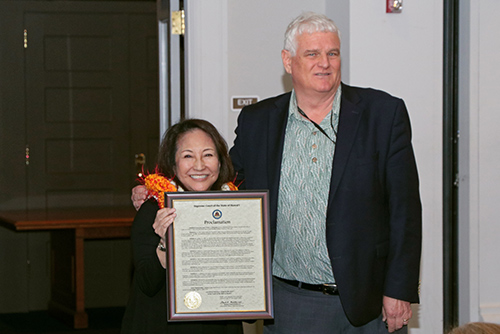 Nearly 30 years to the day that she was sworn-in as an Associate Justice of the Hawaiʻi Supreme Court (April 22, 1993), the Honorable Paula A. Nakayama celebrated her last day of Judiciary service hosting a Mahalo Lunch Party for as many friends and co-workers as could gather in the Supreme Court courtroom.
Guests wishing to bid her aloha waited in a long line that ended with Chief Justice Mark E. Recktenwald, presenting Justice Nakayama with a gift and a framed proclamation in which he declared Friday, April 21, 2023, to be "Justice Paula A. Nakayama Day" in the Courts of the State of Hawaiʻi (click to read the full proclamation).
Chief Justice Recktenwald encapsulated his thoughts on Justice Nakayama's unprecedented three decades of service by stating, "This is how it's done folks!"
The Judiciary 'ohana joins Chief Justice Recktenwald in expressing to Justice Nakayama our gratitude for the privilege and honor of working with her, along with our deep appreciation for her legendary wit and humor, and extends best wishes to her and her family, for many years of fun travels, good health, and enduring prosperity.