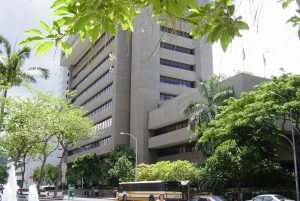 HONOLULU — Power has been restored at Kauikeaouli Hale (Honolulu District Courthouse) and the facility will be open tomorrow, Wednesday, March 28.
Power went out about 9:30 this morning and was restored at 1:30 p.m.
Chief Justice Mark E. Recktenwald issued an order extending time to file items or to conduct hearings required to be held today. The order can be read here.
For more information, contact the Communications and Community Relations Office at 808-539-4909 or via email at pao@courts.hawaii.gov.
Subscribe to the Hawai'i State Judiciary mailing list for email notification of press releases and other announcements.