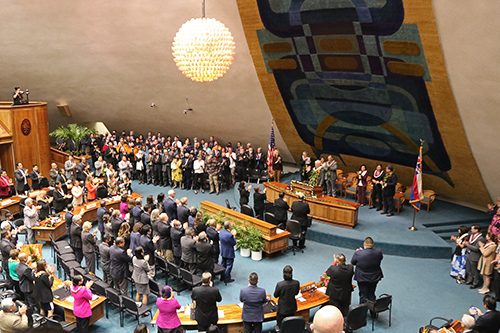 Hawaii Supreme Court Chief Justice Mark E. Recktenwald delivered the 2023 State of the Judiciary address on January 25, at a joint session of the State Senate and House.
During the address, he recognized a number of special guests, including Clyde Aikau, who organized the Eddie Aikau Big Wave Invitational this past Sunday, as well as employees of the State Judiciary, and attorneys who have volunteered at the courthouse Self-Help Centers and Access to Justice Rooms.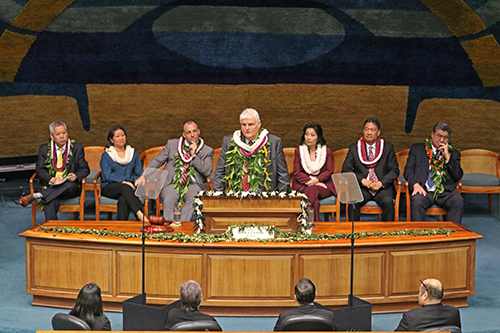 "Public service is the lifeblood of the Judiciary. It defines who we are as an institution. The Judiciary's role in our democracy is different from other branches of government, but we share the common goal of serving the public," said Chief Justice Recktenwald.
"Our core mission is to decide cases fairly and impartially in accordance with the law. But our work doesn't end when the gavel falls. We implement programs to address the root causes of recidivism . . . such as drug use and mental illness . . . and to respond to other urgent community needs. We embrace this expanded role."
Click here for a copy of the speech.
For more information, contact the Communications and Community Relations Office at 808-539-4909 or via email at pao@courts.hawaii.gov.
Subscribe to the Hawai'i State Judiciary mailing list for email notification of press releases and other announcements.