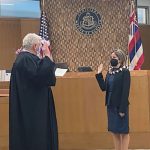 KAILUA-KONA, Hawaii — Joanna E. Sokolow was sworn in as Judge of the District Family Court of the Third Circuit before colleagues, special guests, family, and friends – many of whom watched remotely.
Chief Justice Mark E. Recktenwald presided over the Aug. 3 ceremony, which was livestreamed on the Judiciary's YouTube channel. Guest speakers were: Hawaii State Trial Judges Association Secretary Judge James R. Rouse; West Hawaii Bar Association Vice- President Charles E. Murray; Hawaii County Bar Association Treasurer Sherilyn K. Tavares; Hawaii State Bar Association Vice-President Jesse K. Souki; Judicial Selection Commission Chair Nadine Y. Ando; Rep. Mark M. Nakashima; and Sen. Karl Rhoads.
Sokolow will serve a six-year term.
For more information, contact the Communications and Community Relations Office at 808-539-4909 or via email at pao@courts.hawaii.gov.
Subscribe to the Hawai'i State Judiciary mailing list for email notification of press releases and other announcements.