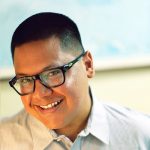 View Video:

https://www.youtube.com/watch?v=HOxRxvXs_S0&t=175s
View our conversation with internationally renowned human rights lawyer and writer Julian Aguon as he reflects on his work and his new book, The Properties of Perpetual Light.
The Properties of Perpetual Light is a collection of soulful ruminations about love, loss, struggle, resilience, and power. Part memoir, part manifesto, the book is both a coming-of-age story and a call for justice—for everyone but in particular for indigenous peoples — Aguon's own and others. His bracing prose and bouts of poetry weave together stories from his childhood in the villages of Guam, with searing political commentary about everything from nuclear weapons to climate change. Aguon deftly deploys the feminist insight that the personal is political, and culls from the light of his own life experiences from losing his father to cancer to working for Mother Teresa to meeting Sherman Alexie in a Spokane bookstore, to illuminate a path out of the darkness.
Co-sponsors:  The Ulu Lehua Scholars Program, King Kamehameha V Judiciary History Center, Ka Huli Ao Center for Excellence in Native Hawaiian Law, and the William S. Richardson School of Law Alumni Association
If you require accommodation for a disability, please email info@jhchawaii.net or call us at (808) 539-4999.
While the Hawaiʻi State Judiciary provides a venue for diverse discussion, the speakers' remarks do not necessarily represent opinions of the Judiciary.