Video is Available – Kanawai and Huliamahi: Remembering Law, Community, and Land in Music
Posted on Sep 9, 2020 in Featured News, News & Reports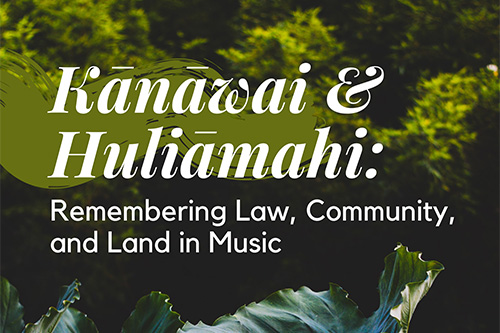 Wednesday, September 16, 2020
5:30 – 6:30 p.m.
Telling today's stories of natural resource disputes and victories through crafted songwriting, this program features mele (songs) that honor aina (land) in Hawaii. How many books have you memorized? Now think of all the songs you know by heart. Mele ensure that history is passed from generation to generation. Musical compilations Huliamahi, Volume 1 and Lei Nahonoapiilani: Na Mele Hou continue this practice.
Join several haku mele from the albums – Keely S. Kauilani Rivera, Frank E. Kaiuokalani Damas, Jonah Kahanuola Solatorio, Nicholas Kealii Lum, Uilani Tanigawa Lum, and Zachary Lum – as they share the background of select mele and how kanawai (law) has been used as a tool of aloha aina – legal advocacy for the rights of aina and Kanaka who continue to live by its values.
Huliamahi is to act in unison and in great numbers. Whether to prepare fields of loi kalo or to protect sacred places, there is great significance and power in the value of huliamahi. As we huliamahi, we gather, we organize, and we cooperate toward a unified goal.
Proceeds from the sale 0f Huliamahi, Volume 1 will benefit the Native Hawaiian Legal Corporation. Sales of Lei Nahonoapiilani: Na Mele Hou will benefit Na Leo Kalele.
Visit the History Center's YouTube channel or Facebook page to view the program live on September 16, 2020 at 5:30 p.m. The webinar will be recorded and published on their social media channels for later viewing.
If you require accommodation for a disability, please e-mail info@jhchawaii.net or call (808) 539-4999.