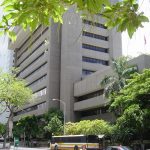 HONOLULU — Kauikeaouli Hale, which houses the Honolulu District Court and some Circuit and Family Court divisions, will be closed today, Friday, July 17, due to a power outage. The courthouse is located at 1111 Alakea St.
For general assistance, please call 808-538-5629.
For questions about matters before the Circuit or Family courts located at Kauikeaouli Hale, please call the division to which your case is assigned:
Judge John M. Tonaki – 808-538-5053
Judge Lisa W. Cataldo – 808-538-5119
Judge Ronald G. Johnson – 808-538-5170
First Circuit Court 18th Division, Courtroom 8c – 808-538-5311
Family Court Judges – 808-538-5196
As a result of the closure, Chief Justice Mark E. Recktenwald has ordered that the time for filing items due on July 17 is extended to Monday, July 20, and all documents due to have been filed shall be deemed to have been filed timely.
He also ordered that hearings or trials cancelled due to the closure shall be rescheduled to the next available date with due regard for any statutory mandates.
For more information, contact the Communications and Community Relations Office at 808-539-4909 or via email at pao@courts.hawaii.gov.
Subscribe to the Hawai'i State Judiciary mailing list for email notification of press releases and other announcements.