Judiciary systems including JEFS, eCourt Kokua, and Document Drop-off will be unavailable due to maintenance work beginning midnight Friday, September 23, to noon, Sunday, September 25. If work is completed sooner, systems may be restored earlier. Applications, including eReminder, eJuror, and eTraffic will not be affected. Thank you for your patience and understanding.
---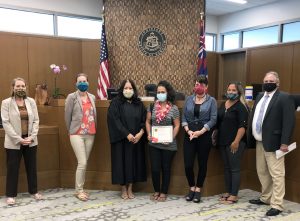 Third Circuit District Court Judge Margaret Masunaga and representatives from partner agencies celebrated Marie Puahalaʻs graduation from the Jail Diversion Program on June 17, 2020.
Read all about it in the West Hawaii Today story published June 19.
For more information, contact the Communications and Community Relations Office at 808-539-4909 or via email at pao@courts.hawaii.gov.
Subscribe to the Hawai'i State Judiciary mailing list for email notification of press releases and other announcements.